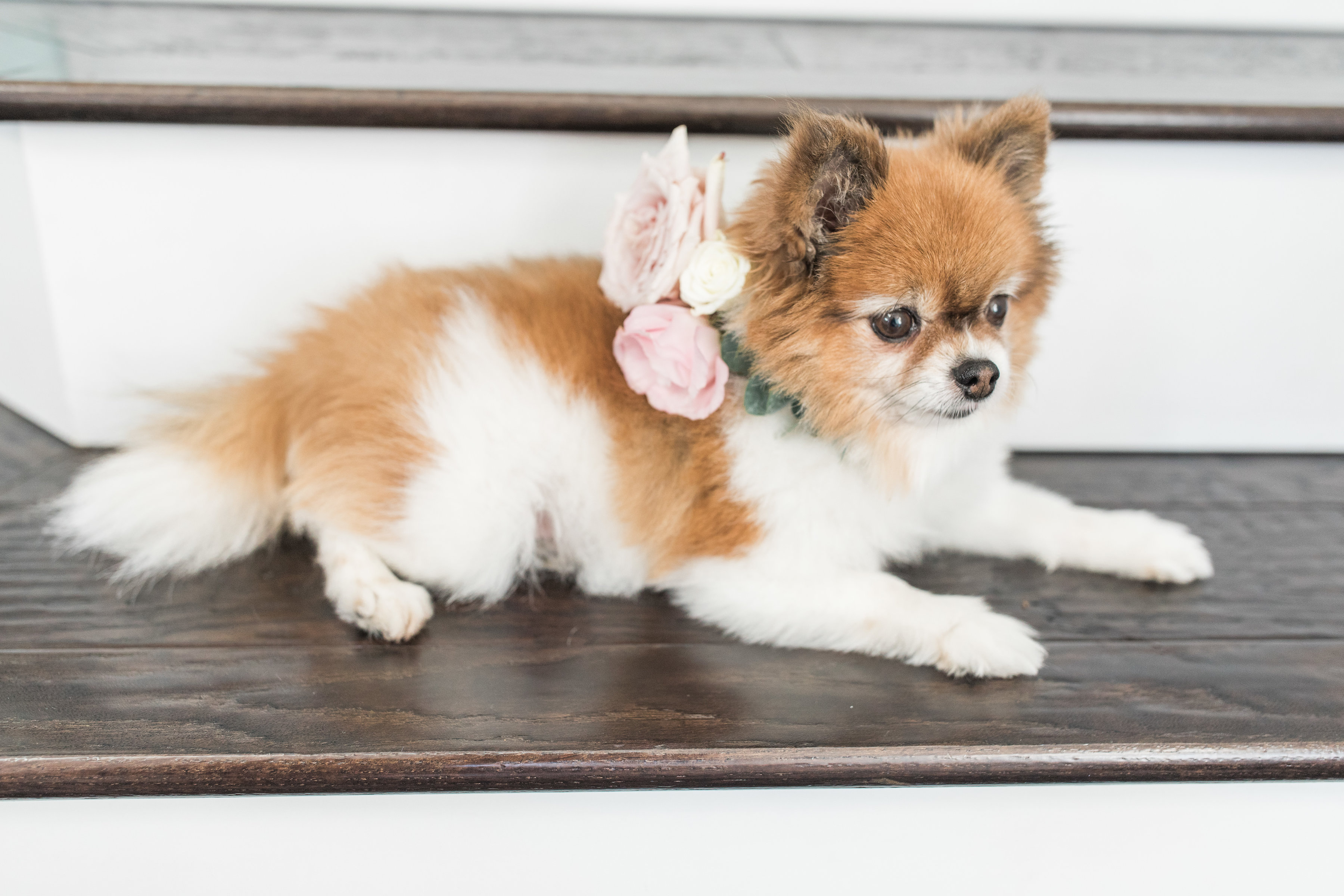 Aaah, Valentine's Day… what an sweet celebration of love! The only problem with it is that restaurants are booked and even if you get a reservation the place is crowded, noisy and busy. Have you thought about skipping all that hustle and bustle and celebrating at home? Imagine… a quiet romantic candlelit dinner for two. Sounds too good to be true right? But it's possible! Here's how you can do it! We think this romantic evening with couple Alena and Larry will make you reconsider going out this year! 
Carve out some alone time for just you two! And make it special.
With a two year old cutie named Dominika, it can be hard to find a moment alone! This mom and dad arranged for Nika to spend the night with grandma so they could celebrate an early valentine's day! Definitely make sure you have a romantic evening to yourselves at home. But being home doesn't mean you can't dress up. Ladies, why not get your hair and makeup done so you feel extra-pretty! We love Alena's soft romantic look by Cassandra McClure, her white lace dress from Llacie and bracelets from Royal Hair Pins.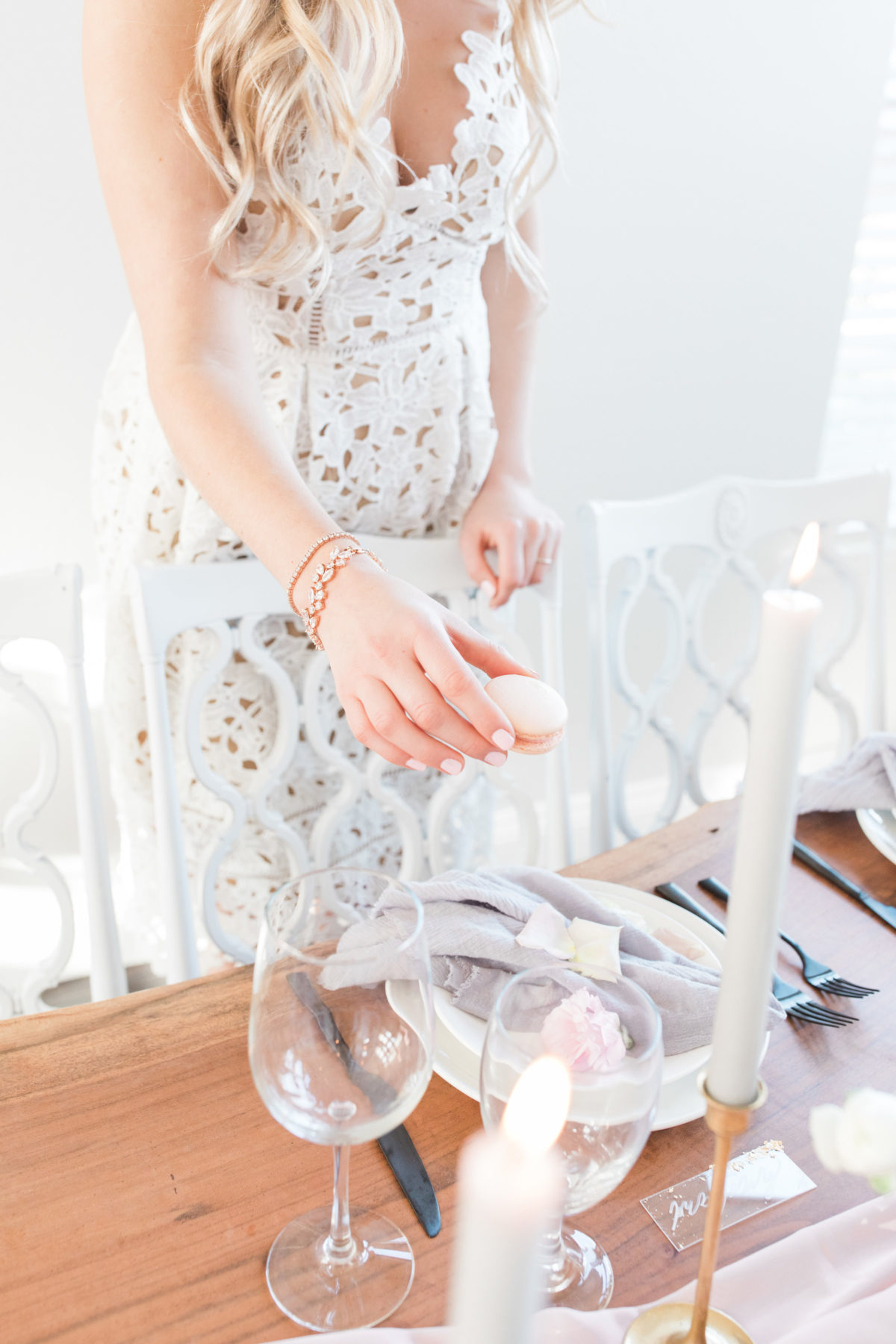 Fill the room with the aroma of fresh flowers, you won't regret it!
Bouquets, centerpieces, and rose petals. What could be more romantic? And what could smell better? Visit the local grocery store a few days before to create a dreamy centerpiece, paired with greens you cut from your yard. Get yourself a vase, flower foam and scissors and start creating your masterpiece! And gentlemen, a bouquet goes a long way!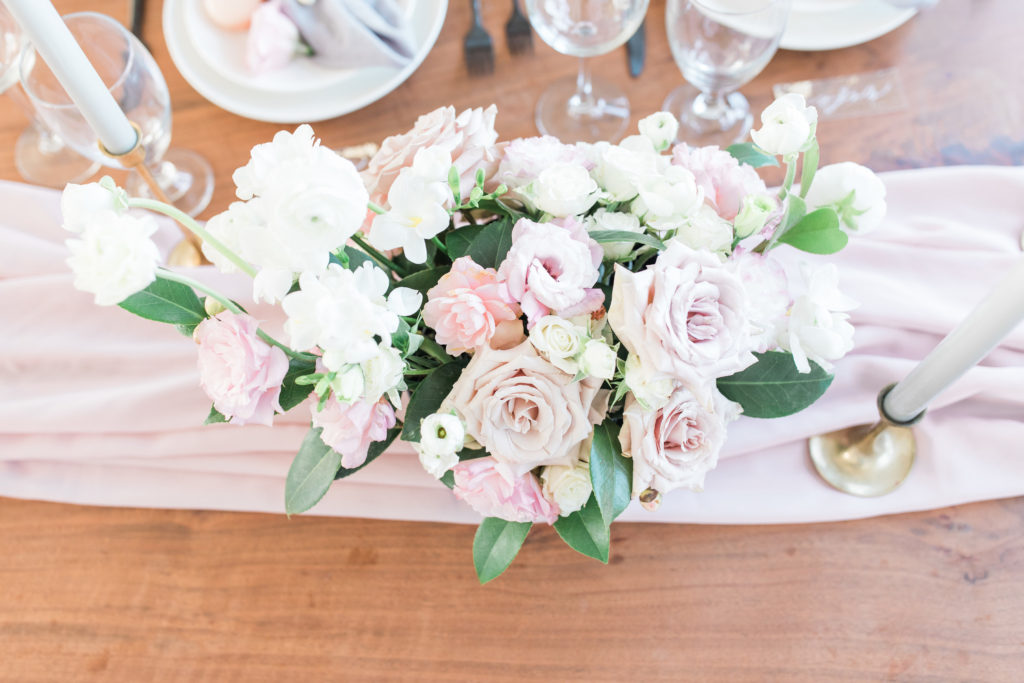 Set the mood with romantic decor; you can never have too many candles.
Dream up a romantic setting for two. After all, this isn't just any holiday you're celebrating, it's a day of love. Spice up your home and dining room with linens, runners, tall candles, personalized touches, and of course flowers. We bet it'll end up being even prettier than any restaurant dining table! If you want to splurge a little, check out local rental companies, like For the Love of Parties, for unique decor items for your dinner date.
Sit back and enjoy a your dinner together.
Light the candles and pull up a chair to your romantic table setting for two. Enjoy a home cooked meal or even delicious take out, Doesn't matter! Just as long as you have something you both can enjoy!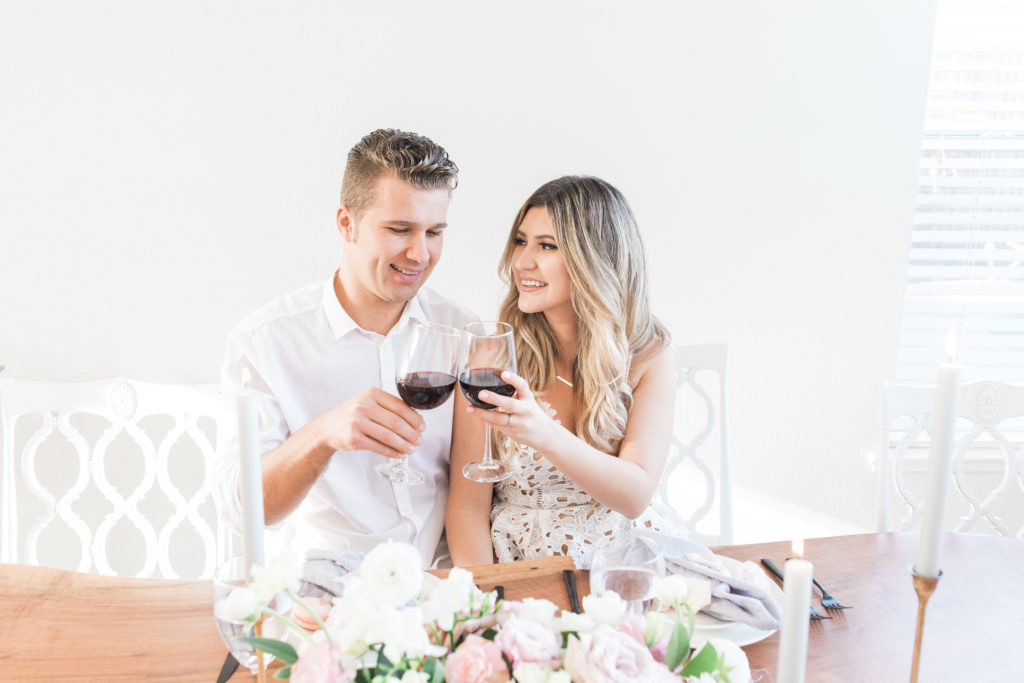 Share your love for each other; and get it in writing!
While you may not get to spend actual Valentine's Day together, there's no reason not to proclaim your love for each other. Take a few moments earlier that day to write down what you love about the other person and then read it to them during dessert! You can also opt to memorialize the moment by asking a local calligrapher to pen your letters for you to keep or frame. We're swooning over these love notes by Ashley Baumgartner on handmade paper by Fabulous Fancy Pants.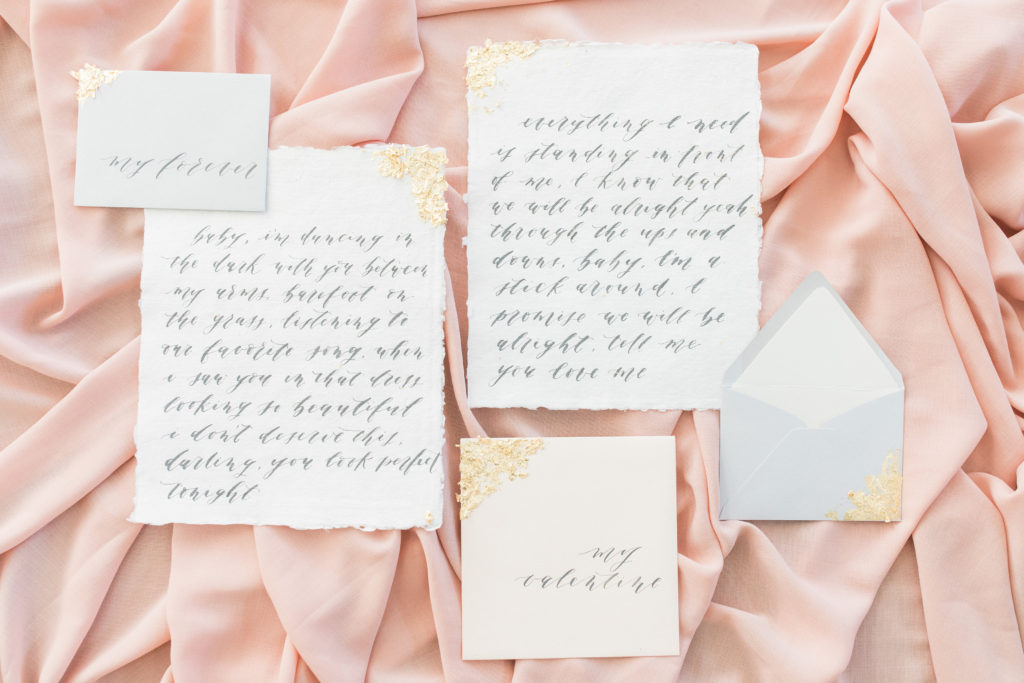 Let's not forget the best meal of the evening…
Dessert! When it comes to dessert, there's never too much! Grab a sweet treat from your favorite local baker or restaurant. The sweeter the better. We're still reminiscing about these macarons and fruit tart from Rose Quartz Cakery. Don't forget the tea – with rosebuds – of course!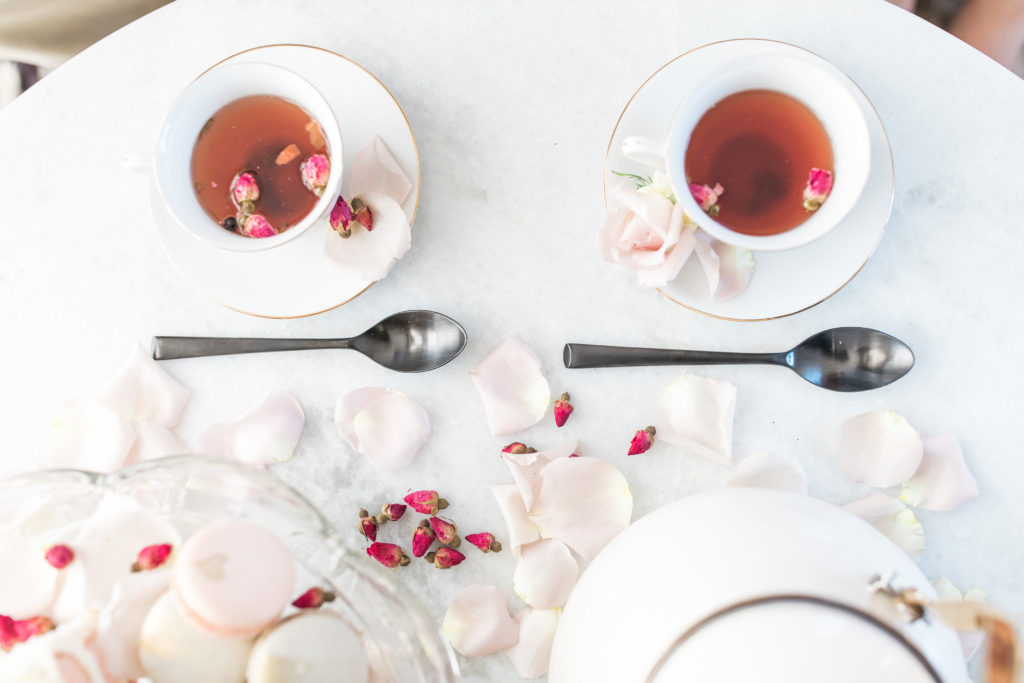 Make time for some extra couch snuggles, and include your furry ones too!
We think every romantic evening should end with snuggles on the couch. After all, what's more relaxing than that? And if you're furry friend wants to join you, the more snuggles, the better! Plus, they look extra cute adorned in flowers.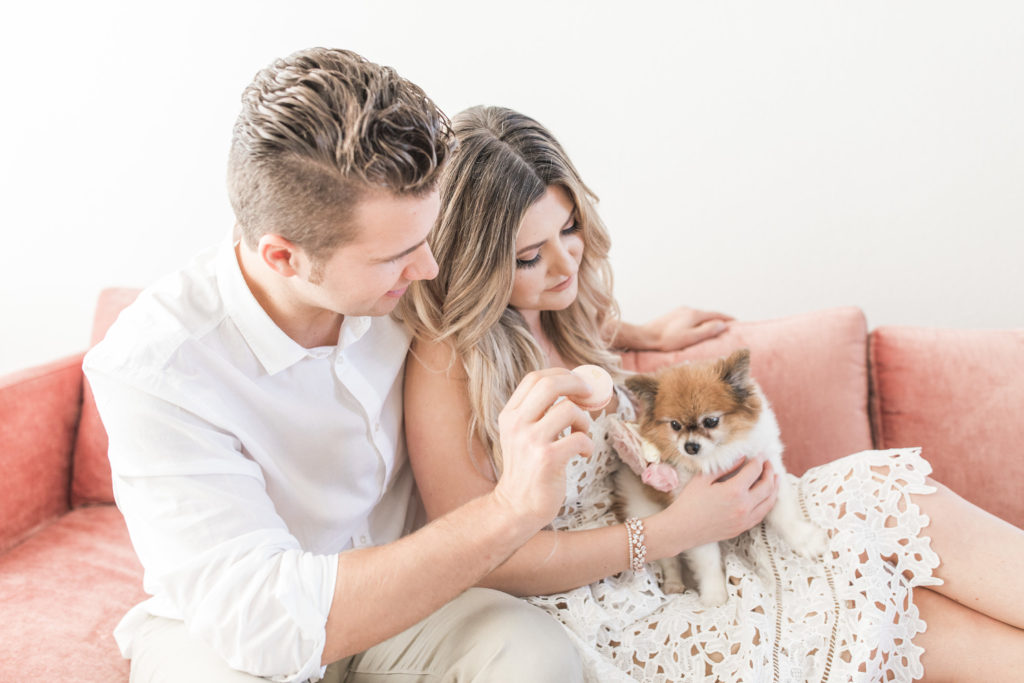 Hope this inspires you to spend Valentine's Day at home with your sweetheart. P.S. It doesn't have to be February 14th to celebrate, love is worth celebrating any day out of the year!
See more from this sweet date below!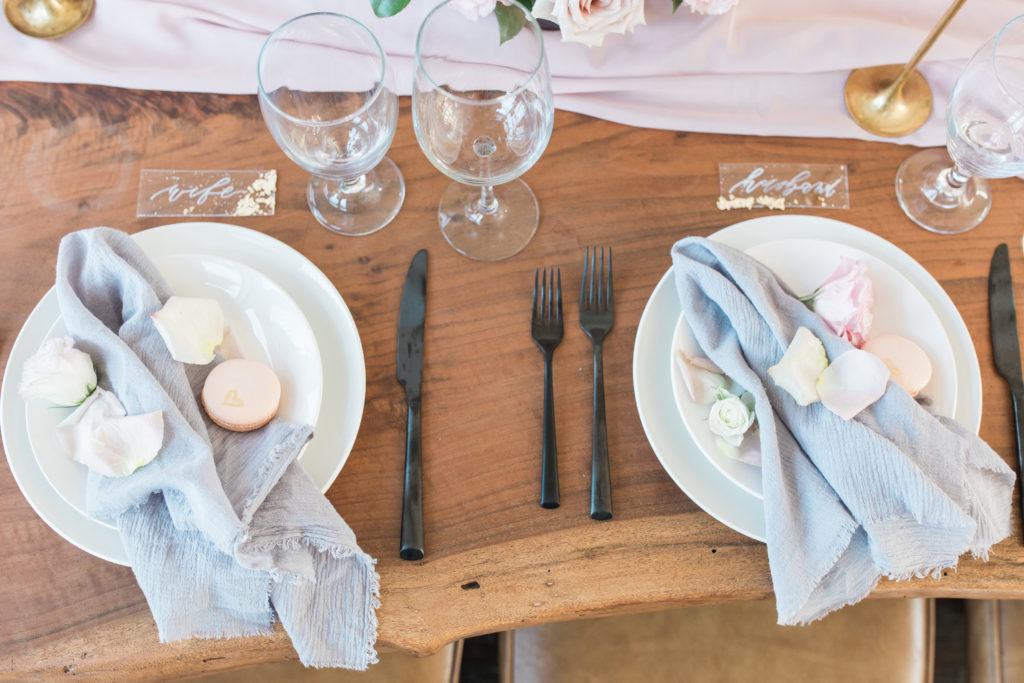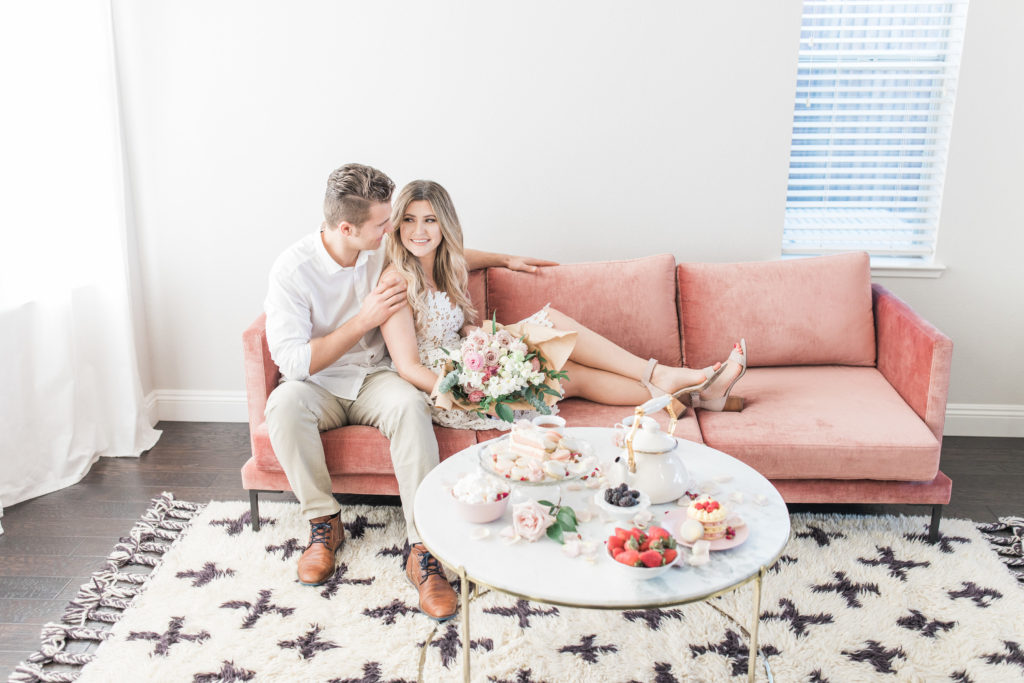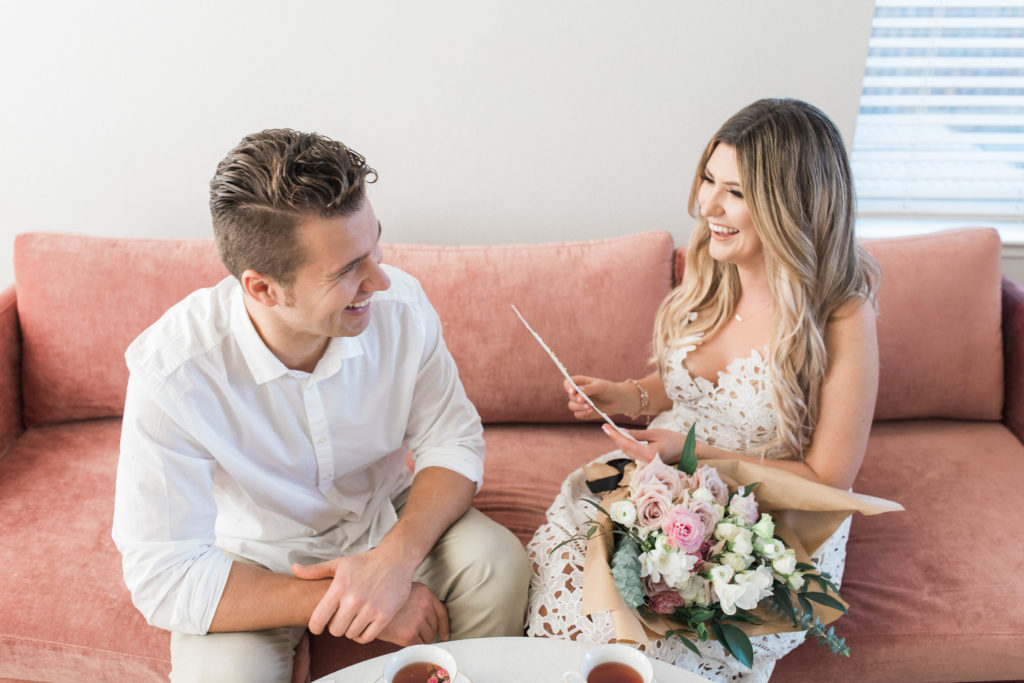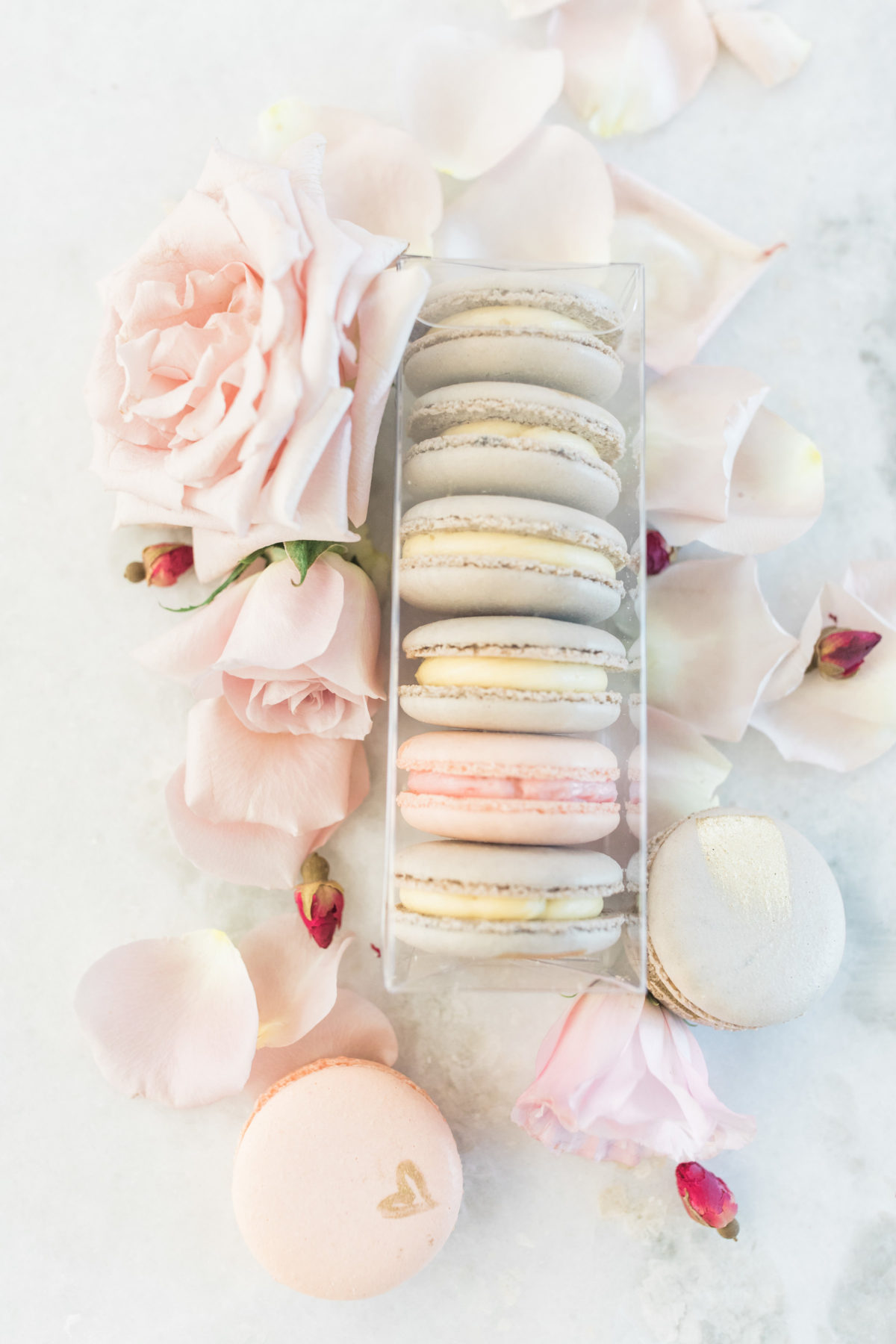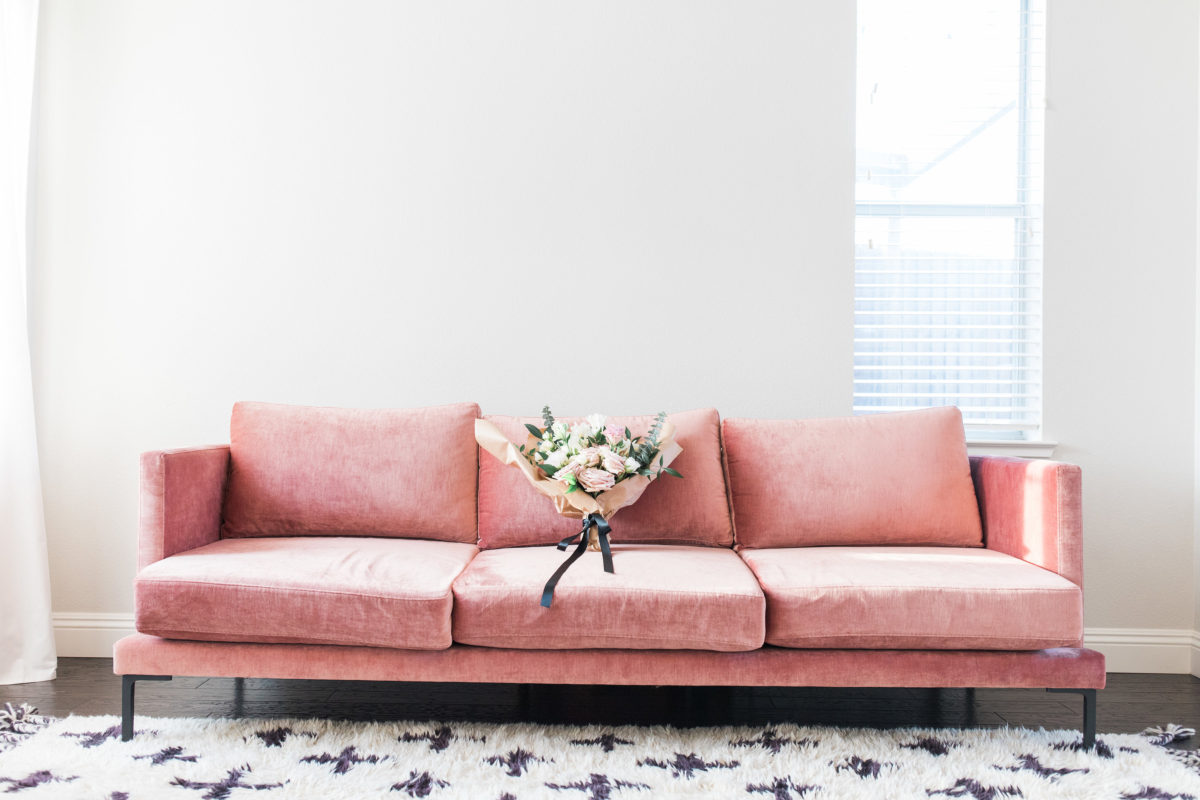 Vendors 
Photographer & Calligrapher: Ashley Baumgartner
Design & Rentals:Eventlyst
Napkins: Stella Rental & Design
Dinnerware: Styled by Lily
Dress: Llacie
Bracelets: Royal Hair Pins
Hair & Makeup: Cassandra Mcclure
Macarons & Fruit Tart: Rose Quartz Cakery
Cake: Ettore's
Handmade paper: Fabulous Fancy Pants