Most Popular Kansas City Area Party Rentals
View all Party Rentals in the Kansas City…
Kansas City Linen Rentals
No products were found matching your selection.
View all Linen Rentals in Kansas City…
Kansas City Chair Rentals
No products were found matching your selection.
View all Seating Rentals in Kansas City…
Kansas City Table Rentals
No products were found matching your selection.
View all Table Rentals in Kansas City…
Kansas City Backdrop Rentals
No products were found matching your selection.
View all Backdrop Rentals in Kansas City…
All Event Rental Categories
Do you have items you would like to rent out?
Join Eventlyst as a Vendor and share your
inventory with party starters in your area!
Learn more here: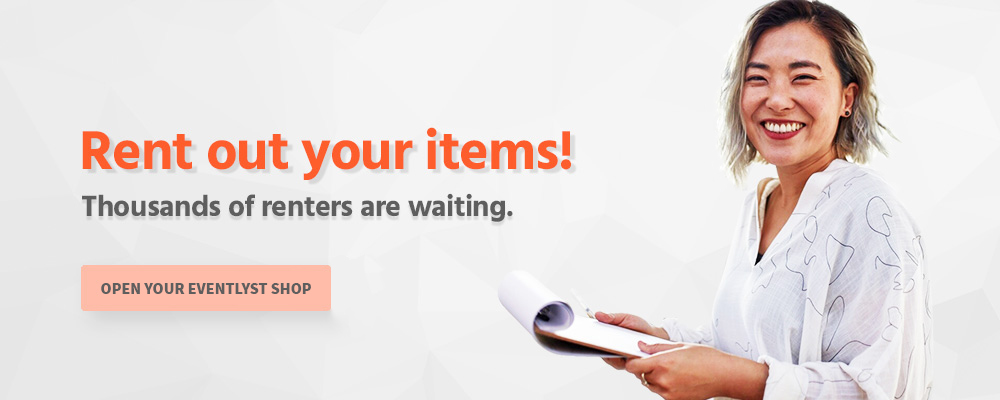 Why Kansas City Is The Perfect Party Place
Kansas City is the busiest and most populated city in Missouri and it borders the state of Kansas. This may be surprising to some who have always given this distinction to St. Louis. If you are throwing a party, planning a wedding or hosting some other celebratory event in 2019, this is the perfect place to make it happen. Here is some insight into this location and why you should head here for your next shindig.
An Overview Of Kansas City
This is a well-cultured city that is home to places like the Kansas City Repertory Theatre and the Nelson Atkins Museum. It is a rather diverse city that has a rich history for being one of the homes of jazz music. There are numerous venues in the city where you can go to partake in some of the music that was popular from the 1940s and beyond. Besides the jazz community, there are also many Irish-Americans who call this place home and there are many stores and events that reflect this. As far as cuisine. many visit the city in search of some of the famous BBQ they are know for all over the world. This is not all they have to offer to the culinary world. In fact, many James Beard award winning eateries are located there.
It is also important to note that there are several cities in the surrounding area where you can be entertained and find culinary delights as well. Olathe, Overland Park and Kansas City, which are located in the state of Kansas, and Independence, which is in Missouri are all great cities to visit and/or hold an event.
Kansas City Neighborhoods
As you should already be aware of, every neighborhood in any given city have their own culture. It is common to spend time in one part of a city and get a certain vibe, then head to another area and feel something totally different. This means a lot when it comes to planning a wedding or other event since your surroundings can add or take away from the overall experience. While there is no time to discuss all of the areas that make up this city, here are a couple of areas that stand out.
Westport
This used to be its own city, but at some point it was annexed by Kansas City in the late 1800s. It is generally known as one of the entertainment hubs in the city and numerous people spend time there annually. It is an historical city that was once part of the Oregon and Santa Fe trails. If you are a history lover, some of the places in the area have their original decor and would be the perfect location for those who are hosting an event.
18th & Vine District
This is the part of the city you would head to in order to immerse yourself in the urban culture. Many of the jazz and blues musicians who hail from the city have spent countless hours here. You would probably not want to go there if you would like to have an upscale event, but it would be perfect for something like a semi-casual wedding or a jazz brunch.
Why Host An Event In The Area
There are numerous reasons to host an event in Kansas City, MO and the surrounding area, including the following:
Kansas City, KS –  This 816 area is ideal for those who want to have an event that is smaller. It would be good place for a wedding since historical, romantic places, like Sauer Castle, can serve as the backdrop.
Kansas City, MO – Despite the fact that this city shares it's name with another, they are entirely different.  As you were told earlier, this is a hub for those who are interested in jazz, the arts and a solid food scene. Hosting an event here means that you can use the history of the area as a backdrop and go from there.
Olathe, KS – This was once home to many 19th century structures, yet many have been demolished so newer construction can take place. With that being said, if you like a small town feel from a place that is up and coming, this would be a nice location.
Overland Park, KS – The Overland Park Arboretum and Botanical Gardens are located here, as well as numerous other parks and nature-based places. This would be nice for events that will take place outdoors since there are so many places in the city to choose from.
Independence, MO – As with other cities the the area, they are rich in history. Besides this fact, they are home to many who are Latter-Day Saints. Those who follow this religion and would like a place to hold an event should look for something here.
Party Rentals
Once you have found the perfect city and venue, you will have to think about where you are going to find all of the items, equipment, tents and services you will need to make it a success. For instance, you might need linens, tables, chairs, inflatables and a host of other things. You can go out and purchase all of these things, but it can be costly. You are better off finding a reliable party rental company and having them provide what you need.
All companies are not the same, so you will have to do you due diligence. This will help you guarantee that your party will be a success. This applies to any type of party that you can imagine. The key is to take your time and do ample research before you jump at the chance to work with someone.
Kansas City is a place that is very historic and home to great food, great architecture and a nice music scene. There is no reason to ignore this when you are looking for a place to party. So, find a neighborhood, book a space and have a party rental company help you figure out all of the rest.
Kansas City Vendors
By renting through Eventlyst.com  you're supporting your local community!
Our vendors range from professional shops to stay at home moms and recently married couples who work from their house.  New products added every week!
They live locally where you live…in the River Market, the Crossroads, the Plaza, Westport, the new Power and Light District, and several suburbs.
They provide every service you need including table and chair rentals, linen rentals, plate rental  and dinnerware, decor, backdrops and much more!
How to contact a specific vendor?
If you're looking for a phone number or email for a particular vendor you can usually find it in their profile.  However, the best way to get help is to use the Contact Page to message them directly today!
Have more questions?  See our Client FAQ here.