Most Popular Houston Party Rentals
View all Party Rentals in the Houston…
Linens Rentals Houston
View all Linen Rentals in Houston…
Chair Rentals Houston
View all Seating Rentals in Houston…
Table Rentals Houston 
View all Table Rentals in Houston…
Backdrop Rentals Houston 
View all Backdrop Rentals in Houston…
Rental Categories
Do you have items you would like to rent out?
Join Eventlyst as a Vendor and share your
inventory with party starters in your area!
Learn more here: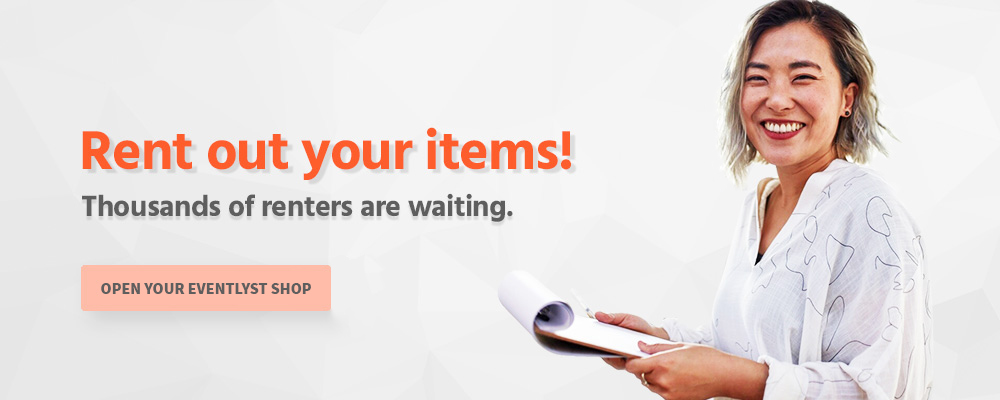 An Insider's Guide To Houston Events
Houston is one of the most populated cities in Texas. As a result, it should not be surprising that there are countless parties and weddings held there each day. When you are planning an event, it is sometimes practical to look for Houston party rentals such as tables chairs instead of buying them outright. This guide is for those who want to know all there is about this large city, why it is great for hosting celebrations and how to find the best event rental options like tents in the area.
Getting To Know Houston
This city is home to more than two million residents and is a mecca for those who love to eat. With all of the diverse dining options available, it is possible to take a trip around the world without leaving the city. If you are planning to have an event someplace in Houston, the first thing you need to do is decide which of the many neighborhoods would be the perfect location. In case you are not totally familiar with this locale, here is an overview of some of the options that should be on your list of possibilities.
THE HEIGHTS
This is the place to be if you are all about having fun, but in a low-key type of way. It is especially walkable with many restaurants and shops available, but not as bustling as heading Downtown. People who believe that a great time is all about smaller, quaint gatherings would certainly love having an event here.
MONTROSE
At one point, this was a place where many LGBTQ people headed in order to enjoy the nightlife. While many of the original establishments are no longer there, the vibe of the neighborhood is the same in the sense that it is artsy, eclectic and a place where one can be themselves. If you want to throw a party that is a bit quirky, this would be the best place to do it.
MIDTOWN
This is a walkable area that is frequented by those who are fresh out of college. There is no rule about who can spend time here, but it is common to find many post-grads around enjoying the scenery. The neighborhood borders three highways, I-45, US-59, and Highway 288, so those who you plan to invite to your event should be able to find it with no problem. Keep in mind that there is also a light rail for those who do not drive and/or know they will indulge far too much to get behind the wheel.
SUGAR LAND
Culture is the name of the game in this part of the city, which is home to the Houston Museum of Natural Science and the Smart Financial Center. It is technically considered the suburbs, but there is plenty to do there. If you want to have an event in a place that is very low-key without all of the hectic fanfare that comes with big city living, this would be a great choice.
NEARBY OPTIONS
If you are in Houston, but you want to step outside of the city and try something a little different, there are cities close by that you may want to consider. Galveston, Pasadena and Deer Park are just a few of the options that you might want to consider; each of them have their own merits.
The Ins And Outs Of Event Rentals
You may be asking yourself why someone would want to rent items for an event or wedding  form a website instead of buying them outright. The benefits of doing this are quite simple:
– You will save money.
– You won't have to delegate space in your home for all of the items you need.
– It would be wasteful to buy things you only need to use once.
Event and Wedding rentals near Houston just make sense.  Once you have decided that renting is the best course of action for you, use the following information to locate the best rental company to work with.
PRICE
Do not allow this to be the only thing that stands between working with a great rental company and being stuck with one that is not so desirable. While it is important to budget and find someone that fits in your range, you should not place this factor above all else. Always get quotes from several companies before making your decision and use their figures as a way to choose once you have narrowed down your options in every other way.
SELECTION
It's 2019, everyone does not have the same taste and style. For this reason, you have to find a company that offers variety of party rentals Houston. While some of the smaller companies may be a bit limited with what they offer, it is better than only have one or two options available. For some, the more choices they are given, the happier they are. On the flip side, it can make it a little difficult to whittle things down. Whatever you decide, focus on finding a company that has equipment and services that suit your preferences. Don't forget to look through their gallery of their rental items to see the different ways you can decorate an item!
PROFESSIONALISM
This means everything in a business like this, so make sure that you work with a company that embodies this. The people at the business you choose will have a direct bearing on how your party goes. For instance, if you hire them to provide rentals for your wedding and they are not able to deliver all of the items they promised once the day comes, it can ruin the entire day.
Things like how they talk to you when calling, the wording of their contracts and the way the information about the company is presented to you will help you determine whether they are complete professionals or not, so be mindful. Make sure the company you work with is serving to your needs.
Whether you want to host a small, intimate gathering in The Heights or you want to plan something trendier in Midtown, Houston is a great city filled with wonderful areas to have an event. Make sure that you consider all of the points made here if you want to choose the best neighborhood as well as the best company to make all your event dreams come true and add to your experience.
By renting through Eventlyst.com  you're supporting your local community!
Our vendors range from professional shops to stay at home moms and recently married couples.  New products added every week!
They live locally where you live  You'll find League City party rentals, Pasadena event rentals, Pearland event rentals, Sugar Land party rentals and all over the greater Houston area!
They provide every service you need including table and chair rentals, linen, plates and dinnerware, decor, backdrops and much more!
They serve any kind of event from small parties to weddings and corporate events.
Rent through Eventlyst for your next special event!
How to contact a specific vendor?
If you're looking for a phone number to call or email for a particular vendor you can usually find it in their profile.  However, the best way to get help is to use the Contact Page to message them directly!
Have more questions? See our Client FAQ here.