Most Popular Stockton Area Party Rentals
Newest Stockton Party Rentals
Bistro light barrel setup

$

350.00

/ 3 days

Location: Stockton, CA

Rented by: Wild Bride RentalsSelect date(s)

Farm Tables

$

80.00

/ 3 days

Location: Stockton, CA

Rented by: Wild Bride RentalsSelect date(s)

Display jar

$

4.00

Location: Sacramento, CA, Stockton, CA

Rented by: Affairs, Bashes and CelebrationsSelect date(s)

Rose gold charger plate

$

0.50

/ 3 days

Location: Sacramento, CA, Stockton, CA

Rented by: Affairs, Bashes and CelebrationsSelect date(s)
View all Party Rentals in Stockton…
Stockton Chair Rentals
View all Seating Rentals in Stockton…
Stockton Table Rentals
View all Table Rentals in Stockton…
Stockton Linen Rentals
No products were found matching your selection.
View all Linen Rentals in Stockton…
Stockton Backdrop Rentals
No products were found matching your selection.
View all Backdrop Rentals in Stockton…
All Rental Categories
Do you have items you would like to rent out?
Join Eventlyst as a Vendor and share your
inventory with party starters in your area!
Learn more here: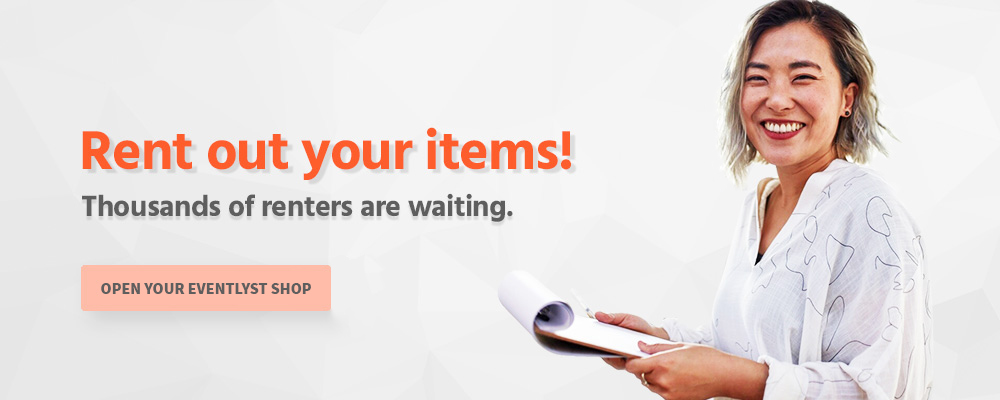 Your Guide To Stockon, CA Party & Wedding Rentals
Whether you're planning a large and glamorous wedding, corporate event or a small and intimate birthday party, you'll want to make sure you have all of the supplies you need for your events. You'll be glad to know that there are great options when it comes to Stockton, CA party & wedding rentals. These are some of the things you'll want to keep in mind as you work to put your wedding or event together.
Figuring Out What You Need
You'll have to choose a venue before you start looking at rental options. Some venues will provide things like chairs, stemware, and glassware, but other venues will expect you to provide your own supplies. You'll also have to nail down your guest list before renting; that way, you'll be able to determine how much you should be renting.
When it comes to wedding rentals, it's always smart to rent more than you think you'll need. For example, it's best to rent about 10 extra chairs for your wedding and reception. That way, if a chair is damaged or broken, you'll have a replacement seat on hand to accommodate your guests.
The Cost Of Wedding Rentals
Getting married usually isn't cheap. The average cost of a wedding in California is $40,000, which is $10,000 above the national average for wedding costs. Still, you'll be happy to know that it's possible to have a wedding on a budget in Stockton. Choosing the right rentals could actually help you to control the costs of your wedding.
It's 2019, renting the items you need for your special day doesn't have to be expensive, but you will have to show some initiative if you want to save. Make sure you're completely aware of the costs that you'll be expected to cover. From the initial deposit to delivery fees to the costs you'll be paying if items are damaged, you'll want to be familiar with all potential expenses.
Planning The Perfect Wedding In Stockton, CA
This warm, waterfront city is ideal for outdoor weddings. Because Stockton is fairly dry, it's unlikely that you'll have to deal with rain, and the San Joaquin River can provide beautiful views. The popularity of outdoor weddings has dramatically increased over the last decade. If this is what you want for your wedding, you'll find plenty of options in Stockton.
Stockton is also right in the heart of California wine country, which means it's home to a number of wineries. Many of the vineyards in the area are stunning, and quite a few of these vineyards double as wedding venues. If you're hoping to get married outdoors, you'll find no shortage of choices. Park weddings, garden weddings, and waterside weddings are all an option in this city.
Of course, you don't have to limit yourself to outdoor venues. You'll also find a wide range of indoor event spaces in the Stockton area. Stockton is home to several churches that are historical landmarks, including St. Mary's Church, which was built in 1861, and St. John's Episcopal Church, which has been standing since 1892. No matter what your dream wedding looks like, you'll be able to bring your vision to life in Stockton.
What Should You Be Renting?
The items you need to rent for your wedding will vary based on your event venue. That said, common rental items include chairs, tables, tents, linens, flatware, and glassware. Make sure you know exactly what you'll be expected to provide. Don't assume that the vendor will be providing anything; you should always confirm what's included.
You may want to consider renting additional items in addition to the essentials your wedding will need. For example, if your chosen venue doesn't have any lounge seating, you may want to rent a couch or a bench. If you're looking for reception entertainment, you could consider renting a photo booth. Make a list of what you want and need for your wedding before talking to any vendors.
Asking The Right Questions About Stockon, CA Party & Wedding Rentals
No one wants to deal with headaches or frustrations on their wedding day. That's why it's smart to talk to rental companies ahead of time and ask essential questions before signing a contract. Some of the questions you'll want to ask include:
* Are you fully insured?
* What kinds of products do you offer?
* Is it possible to view items before renting them?
* Do you offer site inspection or diagramming services?
* How much will I have to put down for a deposit?
* When will the final payment be due?
* When will rented items be delivered to the Stockton venue?
* Will there be a manager on site during the delivery and installation process?
* What is your cancellation policy?
Asking these questions can help you avoid major problems as your wedding draws nearer. It's a good idea to put together a list of questions so you don't forget to ask anything as you speak to the vendor.
The Best Time Of Year For A Stockton Wedding
The most popular months for California weddings are August and October. However, the weather in Stockton allows for weddings to take place at any time of year. Even in December and January, when temperatures are at their coldest, the average low temperature is around 37 degrees. Couples have a lot of flexibility when choosing a date for their event. In a climate like Stockton's, any season is well suited to a wedding.
It's not unusual for popular wedding venues in the Stockton area to book up a full year in advance, particularly when it comes to Saturday weddings. If you're planning a wedding at the last minute, you may want to pick a less popular month for your big event. Still, it's good to know that you can have a beautiful wedding in Stockton on any day of the year.
There are many things you need to consider as you plan a wedding. Luckily, you should be able to find excellent options for Stockton, CA wedding & party rentals. You'll be able to rent all of the items you need for your wedding at a great price and plan a beautiful affair.
Stockton Rentals Vendors
By renting through Eventlyst.com you're supporting your local community!
Our vendors range from professional shops to stay at home moms and recently married couples.  New products added every week!
They live locally where you live… serving in Escalon, Lathrop, Lodi, Manteca, Ripon, Tracy and all over the 209 Stockton central valley area!
They provide all rentals and every service you might need including water dispensers, tables chairs, linen, plates and dinnerware, decor, backdrops and much more!
How to contact a specific vendor?
Next, if you're looking for a business phone number to call or email for a particular vendor you can usually find it in their profile.  However, the best way to get help is to use the Contact Page to message them directly!
Have more questions?  See our Client FAQ here.
You can contact any vendor or company directly through our "Contact Us" page!