Most Popular Sacramento Area Party Rentals
View all Party Rentals in the Sacramento…
Sacramento Linen Rentals
View all Linen Rentals in Sacramento…
Sacramento Chair Rentals
View all Seating Rentals in Sacramento…
Sacramento Table Rentals
View all Table Rentals in Sacramento…
Sacramento Backdrop Rentals
View all Backdrop Rentals in Sacramento…
Sacramento Photo Booth Rentals
View all Photo Booth Rentals in Sacramento…
Rental Categories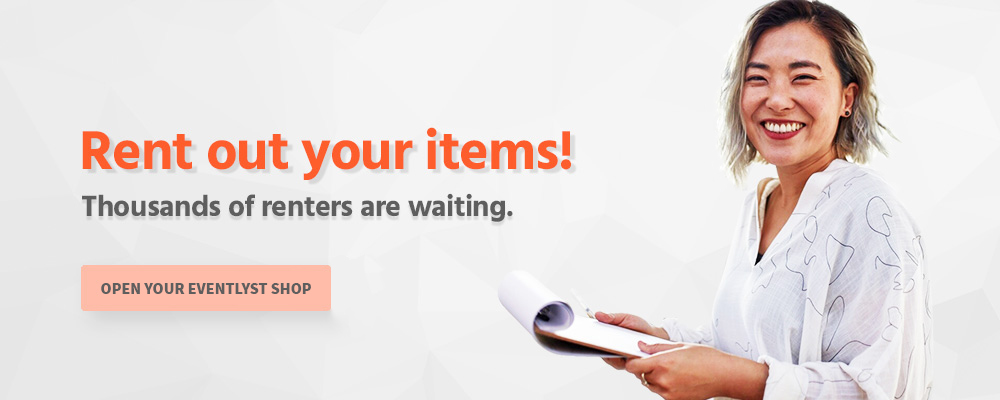 Ranking Sacramento's Best Options for Party Rentals
As with any major city, there is a myriad of options for you to chose from for Sacramento party rentals for your wedding, birthday or other special events. There are established "legacy" services like Celebrations, United Party Rentals company and Aba Daba Party Rentals.  There are also many smaller event rental shops scattered all throughout.  Is there a better option in the sunny 916?
Good | Large Legacy Rental Shops
It's well known that large party rental organizations have to deal with expensive overhead.  The cost of people in the office, warehouses, vehicle maintenance, advertising is all passed on to their clients!  You get a great selection of party supply rentals in Sacramento but you will pay more.  Their contracts and policies are usually stricter as well and will charge you fees every time you want some flexibility.
Better | Smaller Neighborhood Rental Shops
A good local party rentals shop can be a gem.  You are usually dealing with a business owner that cares, a carefully curated inventory of party supply rentals and cheaper prices.  The downside is that the rental inventory is limited.  And you still have to call and explain what you're looking for because their site may not be up to date!
BEST| Multi-Vendor Event Rentals Marketplace
You don't experience the downsides of the two other options when you rent from Sacramento's only party rental marketplace.  Booking your party rentals through Eventlyst.com is a HUGE win:
Saves You Money. The vendors that share their items on this site don't have to pay accountants, storage fees, and advertising.  You get their best rate every single time.  It's like getting your party rentals in Sacramento on sale every single time!
More Options To Pick From. There are several dozen vendors that share their items here which means the inventory contains hundreds of different kinds of items totaling thousands of total inventory!  Are you looking for party tables and chairs for rent? Got 'em!  A wide selection of plates and dinnerware for rent? Absolutely!
Available Dates Displayed Online.  Every other place, big or small, will ask you to call your order in or submit an online form.  Not here!  Each item has their availability marked on their calendar so you know if it's available for your dates.  Find and Rent immediately online with no hassle! Check out the inventory for yourself!
Our party rentals vendors are easily accessible from all throughout the Northern California valley including from nearby communities including Elk Grove, Roseville, Citrus Heights, Davis, Folsom, Rancho Cordova, El Dorado Hills, Rocklin, Woodland, Auburn and West Sacramento.
What Sacramento Rentals options do you have?
Different events may require different kinds of rentals.
Sacramento Area Wedding Rentals and Reception or Banquet Supplies:  Weddings party rentals usually require larger equipment and furniture rentals.  This means you're looking for tents, tables, chairs, linen rentals, mobile bars, flatware and glassware for rent in the Sacramento, Elk Grove and nearby areas. Wedding rental season usually begins in the late winter – early spring as people book their summer wedding dates.  Make sure you book yours early so you don't miss the items you need and ensure you have enough of everything!
Sacramento Bridal Shower and Baby Shower rentals: These are smaller more intimate parties where you may go with themed rentable decor, backdrops for rent, mood lighting and special glassware to make it perfect.
Birthdays, Anniversaries and Special Events: Depending on how big the event may be you may still need backdrop rentals, decor, tables, table linens, chair rentals, plate rentals and other party supply rentals.  Usually, kids are involved so make sure you grab something special to keep them entertained!
Sacramento Corporate and Business Events: You may want to consider looking at the black tablecloth rental, a mobile bar and appropriate accessories in your planning.
Sacramento Photoshoots: Looking for something fun for your engagement shoot, wedding shoot or even just props for another occasion? We've got tons of props and decor to complement your design and location!  You'll find everything from vintage rentals, floral, modern rentals, shabby chic rentals, rustic rentals and many other styles.
Sacramento Vendors
By renting through Eventlyst.com you're supporting your local community!
Our vendors range from professional shops to stay at home moms and recently married couples.  New products added every week!
They live locally where you live…in Folsom, Rocklin, Elk Grove, Rancho Cordova and all over the Sacramento area!
They provide every service you need including table and chair rentals, linen rentals, plate rental  and dinnerware, decor, backdrops and much more!
Locations
Our vendors are not just in Sacramento proper! If you're nearby then we've got some great options for you within a very short drive.
Elk Grove Party Rentals:  Elk Grove is a city just south of the capital.  It's also close to beautiful wine country as you keep going south into Galt and even Lodi.  You'll see a ton of weddings booked here!  Many of our vendors are in the area so your next rental maybe just another Elk Grove resident but if not then the rest of the city is just a few minutes away.
Rocklin and Roseville Party Rentals: This area includes some of the most beautiful homes in the city.  That also sets the scenes for incredible events and parties!  Vendors in Roseville, Rocklin and even Folsom have the rentals you need for any style of party or event that you're throwing.
How to contact a specific vendor?
If you're looking for a phone number or email for a particular vendor you can usually find it in their profile.  However, the best way to get help is to use the Contact Page to message them directly!
Have more questions?  See our Client FAQ here.
Do you have items you would like to rent out?
Join Eventlyst as a Vendor and share your
inventory with party starters in your area!
Learn more here:
You can contact any vendor directly through our "Contact Us" page!