Most Popular Los Angeles – Orange County Party Rentals
View all Party Rentals in Los Angeles – Orange County…
Los Angeles – Orange County Table Rentals
View all Table Rentals in Los Angeles – Orange County…
Los Angeles – Orange County Linen Rentals
View all Linen Rentals in Los Angeles – Orange County…
Los Angeles – Orange County Chair Rentals
View all Seating Rentals in Los Angeles – Orange County…
Los Angeles – Orange County Backdrop Rentals
View all Backdrop Rentals in Los Angeles – Orange County…
Los Angeles – Orange County Photo Booth Rentals
View all Photo Booth Rentals in Los Angeles – Orange County…
Rental Categories
Do you have items you would like to rent out?
Join Eventlyst as a Vendor and share your
inventory with party starters in your area!
Learn more here: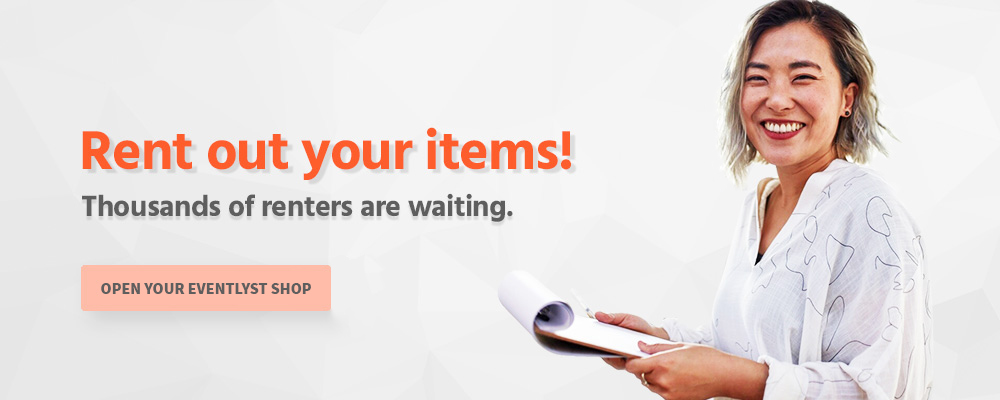 Best Party Rentals in Los Angeles, CA & Event Rentals in Orange County, CA
The charismatic allure of Los Angeles and Orange County is well-renowned due to its picturesque views, beautiful weather, and warm-hearted attractions. In this exceptional county, the wedding and party rental industry continues to thrive. Whether it's the celebrated theme parks or picture-perfect beach towns, OC and LA has become a place filled with iconic landmarks.
As a result of its tranquil, laid-back nature, this elegant county neighboring Los Angeles has earned praise for its masterful selection of venues. From outdoor spaces to ultramodern indoor facilities, Orange County is bustling with a rainbow of well-equipped options. Alongside these pretty venues sit its immersive sandy coastlines that send a chill through one's spine in the best way possible.
The never-ending selection of dining hotspots, golden sand, premier surfing spots, and golf courses immediately fill the heart with pleasure. Whether you're hosting weddings or birthday parties, this is a vibrant locale with unlimited potential. When it comes to hosting a memorable event, there's nothing better than a fun-filled spot in the heart of OC.
With the sun sparkling up above, this magical setting is certainly a destination of dreams. It's a fun-loving locale offering welcoming attractions, spacious recreational areas and one of the best communities in all of Southern California. Spending time in this outstandingly scenic county demonstrates the charm of not only living here but also soaking up its party-friendly potential. Having the time of one's life has never been easier than it is in this bubbly location!
Serving Orange County and its surrounding areas including Long Beach, Torrence, Temecula, Moreno Valley, San Bernardino and Pasadena are truly breathtaking. They offer incredible facilities and gorgeous sightlines for everyone to enjoy.
Here's what it means to enjoy the finest party & wedding rentals in Los Angeles and Orange County in the year 2019.
Exceptional Inventory
What makes a wedding or corporate event come to life? It starts with world-class rentals!
These special rentals are handpicked to provide well-meaning quality, efficiency, and consistency from start to finish. As soon as one's eye sees the beauty of these magnificent items, the event comes to life in a way never seen before. This is the ultimate charm of accessing and renting on the website and from the best vendors in town.
The inventory includes:
* Tables Chairs Rentals in Los Angeles
* Chairs Rentals in Los Angeles
* Canopies & Tents in Los Angeles
* Umbrellas
* Lighting
* Astroturf/Carpeting
* Dance Floor
* Staging Products
* Utensils, Glassware and Plate Rentals in Los Angeles
* General Furniture
* General Decor
* Cooking Equipment
* Audio/Visual
* Concessions and Bar Stations
* And More!
The perfect event has to be tailored to meet your needs. This can include a wide array of items such as the ones listed above. While going through the initial planning phase, it's best to access the finest selection of inventory and choose what's required in seconds. This is why having the ability to go through top-quality rentals is a must in this day and age! Be sure to look through the rental item's gallery to see how you can decorate each item!
Years of Expertise
To ensure the event goes ahead as planned, it's important to invest in classic and elite party rentals in advance with the help of trustworthy professionals. Using these rentals guarantees a seamless experience without having to worry about quality, durability, or affordability. Everything is taken into account with this inventory and what it has to offer in terms of rentals.
Each party rental item is designed to provide tremendous results throughout the event.
This has to do with the service's years of expertise in helping party hosts. When it comes to managing an event, the help of a well-renowned rental service can go a long way in Orange County.
Fully Personalized Rentals
Want to host the best possible event in OC?
It starts with fully personalized party rentals in Los Angeles based on the party's theme. These details are taken into account while digging through the inventory to mix and match specific items. Each rental works in unison with the party's theme to make sure it works out as intended. If the wedding has to match specific patterns, colors, or characteristics, these details are added to the selection process while choosing from the best rentals.
Personalization is what it all comes down with a wedding or party!
Start with the finest rentals and put together a party that's going to be remembered for years to come.
Budget-Friendly Rentals
For all Orange County events, it's important to select from a diverse inventory that's affordable and in line with one's overall vision. With this in mind, it's best to choose from one of the finest rental providers in the region. Each rental in this inventory is fully vetted and is competitively priced to make sure your next event goes ahead as smoothly as possible on a pre-determined budget.
As a team with years of expertise in helping with event rentals, this service goes the extra mile to offer great rates on its items.
Ideal for LA and OC Events
When it comes to Orange County and its surrounding areas, the event has to be catered to the setting and all of its beautiful characteristics. To keep this vision in mind, the vendors promise a beautiful set of rentals in line with your demands. Whether it's putting together an elegant set of tables or finding the perfect utensils, everything is done with a tremendous amount of care to guarantee success.
Having spent years in the OC area, these services are able to make sure the event goes ahead as intended. This begins with an ideal set of Los Angeles party rentals that will make you smile from ear to ear!
The areas covered by our vendors include:
Los Angeles, CA
Long Beach, CA
Anaheim, CA
Santa Ana, CA
Irvine, CA
Glendale, CA
Huntington Beach, CA
Santa Clarita, CA
Garden Grove, CA
Lancaster, CA
Palmdale, CA
Pomona, CA
Torrance, CA
Pasadena, CA
Orange, CA
Fullerton, CA
El Monte, CA
Downey, CA
Costa Mesa, CA
Inglewood, CA
West Covina, CA
Norwalk, CA
Burbank, CA
Professional Service
Want things to be done in a timely manner? Don't want to wait around for the rentals to be made available?
This is the bare minimum in OC and it's best to start with a seasoned team such as this one. The Orange County party rentals are going to be readily available for all parts of Los Angeles and Orange County and can be ready to go well in advance.
This ensures the event is able to progress as desired without any hitches along the way. When it comes to professionalism, no one does it better in Orange County!
If it's time to sign up for the best party & wedding rentals in Los Angeles and Orange County, California then it's best to go with a world-class provider. This is the best way to feel safe about what you're investing in.
If you have any questions form the LA vendors give them a call or send them an email! Their contact information is provided on their profiles.