Most Popular Springfield, MA Area Party Rentals
View all Party Rentals in the Springfield…
Springfield Linen Rentals
View all Linen Rentals in Springfield…
Springfield Chair Rentals
View all Seating Rentals in Springfield…
Springfield Backdrop Rentals
View all Backdrop Rentals in Springfield…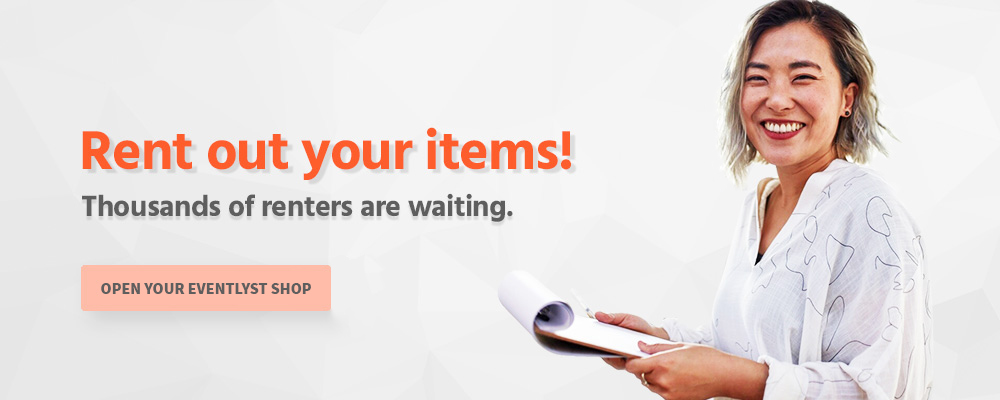 Rental Categories
Springfield, Massachusetts rests along the banks of the Connecticut River and is situated on the southern doorstep of Western Massachusetts' Pioneer Valley. It is about 30 minutes from Hartford, Connecticut, 90 minutes from Boston, and about 3 hours from New York City.  Westfield and Chicopee are the other two major cities that often get grouped in with Springfield when we talk about the area.
Springfield is an area loved by outdoor enthusiasts for its abundant hiking trails and natural beauty, which is also the reason why it is great for weddings, parties, and all kinds of social gatherings. If you are planning your social event, here are 9 rental items that you must never forget.
9 Springfield Massachusetts (MA) Party and Wedding Rentals You Must Never Forget
1. Tent Rentals
If you are hosting an outdoor event, it is always advisable to have a tent ready in case of inclement weather, which does not include just rain. It is important to keep your guests comfortable and protected from billowing winds or blazing sun. However, that's not all you need since gutters, a marquis entrance, pole covers, and clear sides are also needed. If you are a fan of draping fabric across the ceiling of the tent, you should include that too.
2. Chairs and Tables Rentals
Chairs and tables are obviously important for you and your guests to sit during your ceremony, reception, and cocktail hour in case of a wedding, but you should also not forget about other area throughout the event where chairs and tables are needed. The musicians performing need a place to sit and lay their instruments on. Add another table for your cake, another for your seating arrangements, another one for your cards and gifts, and yet another one for your favors.
3. Dance Floor Rentals
A dance floor will be included in most venues, but if your chosen one doesn't have one, you can determine the size of dance floor you need depending on the number of guests in attendance. Wood is the commonest type of dance floor, but other options are available too. It is even possible to project a customized monogram onto the dance floor using a gobo, which is a special type of lighting projection.
4. Flatware, Dinnerware, and Barware Rentals
Without dinnerware, flatware, and barware, it would be impossible for your guests to eat and drink. You shouldn't also forget service plates and chargers, spoons, knives, forks, water glasses, white and red wine glasses, highball glasses, champagne flutes, coffee mugs, and rock glasses. You should also not forget something special such as mason jars for those signature drinks.
5. Portable Restrooms Rentals
It is worth noting that portable restrooms will only be applicable for some events and types of venues. However, they are obviously a requirement. Fortunately, rented facilities usually tend to be well-appointed and incredibly spacious.
6. Lounge Furniture Rentals
It is important to ensure that your guest have a quite area for resting their feet. Assemble a family room layout using vintage couches, coffee table, armchairs, perhaps a rug, and much more. However, before you order any furniture rentals, measure the doorways to be sure that larger pieces can be delivered to the event's venue.
7. Floral Accoutrements
Fresh flowers will definitely go a long way towards ensuring that your big day looks great, but where do you put them all in? That's why you need your florist. You need to hire aisle marker stands, arches, vessels, vases, lanterns, votives, candelabras, etc.
8. Napkins and Linens Rentals
A wide variety of table linen fabrications and styles are currently available out there. It is important to ensure that you choose the ones that best match the theme of your event, and never be afraid to mix and match. Stripes, sequins, damask, and honeycomb designs are some of the best ones for you to consider.
9. Electricity
If you are hosting a backyard event or in a rural venue, you might need to hire a generator. Think about the amount of electricity needed to power your event. Your event space requires it to turn on the lights, your DJ needs it to play music, your caterer needs it for baking and cooking, while your best man and maid of honor need it to give their toasts using a microphone and a set of speakers.
Why Rent for your Wedding or Event?
You will have some similar need for your event whether you are throwing a birthday party, corporate party, or even a wedding. Each event needs to have the right supplies to ensure that guests have a great time and things go off without any problems.
If you are holding the event in a venue where supplies are not provided, you will be required to rent everything to ensure that your event is a success. It is easy to ensure the success of your event when you choose wedding and party rentals. Read on to learn about the benefits of doing so.
Cost Savings
It can get very expensive very quickly to host a party, particularly when expecting a lot of guests. You will have to provide food, beverages, entertainment, and much more, and the costs really add up. If you rent party supplies, you will save yourself money by not having to buy new items that you probably never need again.
Selection
It is important to determine what kind of theme you would like to have as you plan your party. Rather than looking everywhere to find the table and chair settings you want to fit your vision. A party rental should offer you a wide variety of styles. You can save yourself time by not having to shop around since the party rental company will be a one-stop shop for all the supplies needed.
Logistics
It takes a lot of work to throw a successful party, including setup and teardown. Party rental companies typically deliver the items that you have rented to your venue and set them up so that you are free to focus on other particulars of the event. You can also have the rentals taken away after the event is concluded, reducing the stress on you even more.
Final Thoughts
Now that you know about the 9 important party rentals you should never forget and the benefits of choosing wedding and party rentals, all you need to do is find the right provider. Find the right wedding and party rentals company in Springfield, Massachusetts, and you are guaranteed to have a successful event.
By renting through Eventlyst.com you're supporting your local community!
Our vendors range from professional shops to stay at home moms and recently married couples.  New products added every week!
They live locally where you live…in Chicopee, Westfield and all over the Springfield area!
They provide every service you need including table and chair rentals, linen, plates and dinnerware, decor, backdrops and much more!
How to contact a specific vendor?
If you're looking for a phone number or email for a particular vendor you can usually find it in their profile.  However, the best way to get help is to use the Contact Page to message them directly!
Do you have items you would like to rent out?
Join Eventlyst as a Vendor and share your
inventory with party starters in your area!
Learn more here:
Have more questions?  See our Client FAQ here.