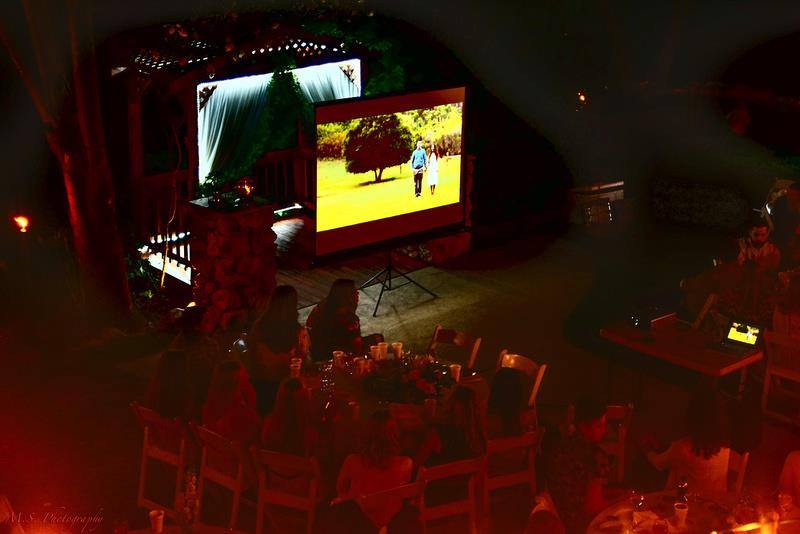 With programs like iMovie, it's very easy to put together polished video to show your guests. Don't have iMovie? If you can bring your laptop to your event, you could use Flickr or Picasa, select your photos and put it in slideshow mode. Easy!
Ready to make your own wedding slideshow?
Select photos of you and your families
from baby photos to current ones, photos of you as a couple and throw some in of the wedding party or close friends.
Be sure to add not only your cute baby photos but add some of those awkward pre-teen and teen shots – those always get a lot of laughs and the point is to entertain your guests.
Select a few medium-paced to fast-paced songs. Even though you may have a favorite slow song you want to use, keep in mind though it may be meaningful, it may also lull your guests to sleep, especially since they've just eaten a full meal!
Keep the flow of photos consistent with the pace of the song you have selected. As a rule of thumb, 2 to 3 seconds per photo is plenty. If there's a particular photo you want to emphasize more, hold it for an additional second. I also recommend holding a photo for a second or two longer if it's of a large group. Your eyes need a bit longer to take in a photo the more people that are in the picture.
Keep it concise, try to limit the show to 5 to 7 minutes (which is about the length of two songs).
If you have video clips, and have the software to include them in your slideshow, those can be a fun addition.
If you use transitions, limit yourself to one or two types – like a slide, wipe or fade. Some transitions can get kind of crazy and dizzying and using too many types will look disjointed.
Make more than one copy or backup of your slideshow and test it out on the actual equipment you will be using before the wedding day to reduce chances of "technical difficulties".
If you're too busy with wedding preparations, or not comfortable doing this yourself, enlist a knowledgeable friend or family member to help and send them a link to this post!
If you are more comfortable with the computer, get as creative as you want – grab some friends, write up a storyline and shoot a music video!
Click here to view some projector and screen rentals!