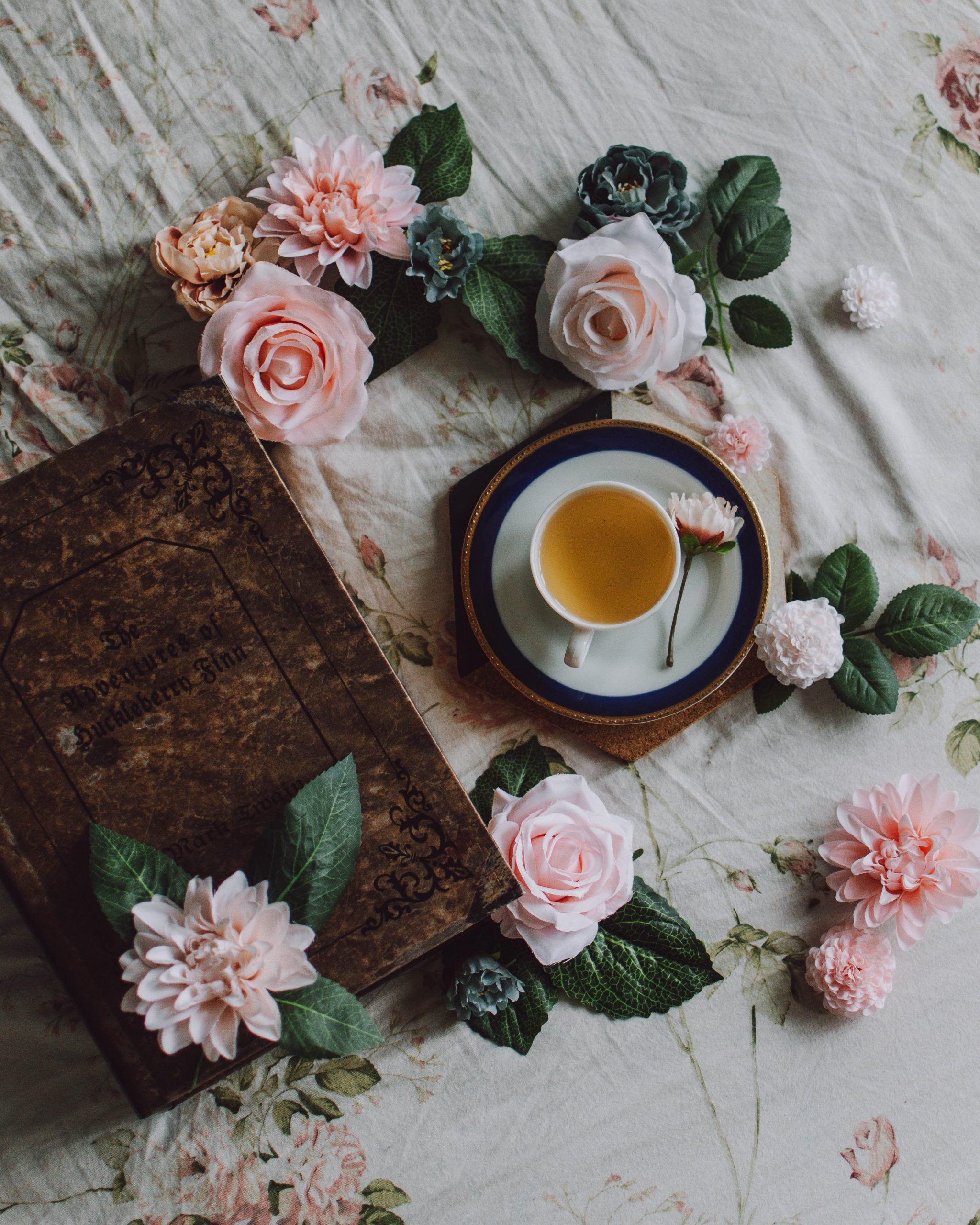 A tea party is fun for girls ages 4-13 years old but really, you can hold a tea party at any age. From the proper dressing attire to the scrumptious tea sandwiches, we've scoured Amazon and the internet and found the best items for your tea party-themed birthday party. Make some tea and let's plan a party!
Tea Party Attire:
For a classy tea party, we must dress like a classy lady. Floral print, polka dots, or just a classy one-tone dress is just the base of your birthday attire. Don't forget about wearing a hat, gloves and a pearl necklace.  Make sure to let your guests know to dress for the occasion.
Here are some classy outfits fit for a tea party:
Ages 4-10: Floral Dress | Polka Dot Dress | Pretty in Pink Dress | Hat | Gloves | Purse
Ages 11-16: Floral Dress | Polka Dot Dress | One Tone Red Dress | Hat | Gloves | Purse
Ages 17 and up:  Floral Dress | Polka Dot Dress | White Dress | Pantsuit | Hat | Gloves | Clutch
Accessories: Pearl Necklace | Earrings | Statement Ring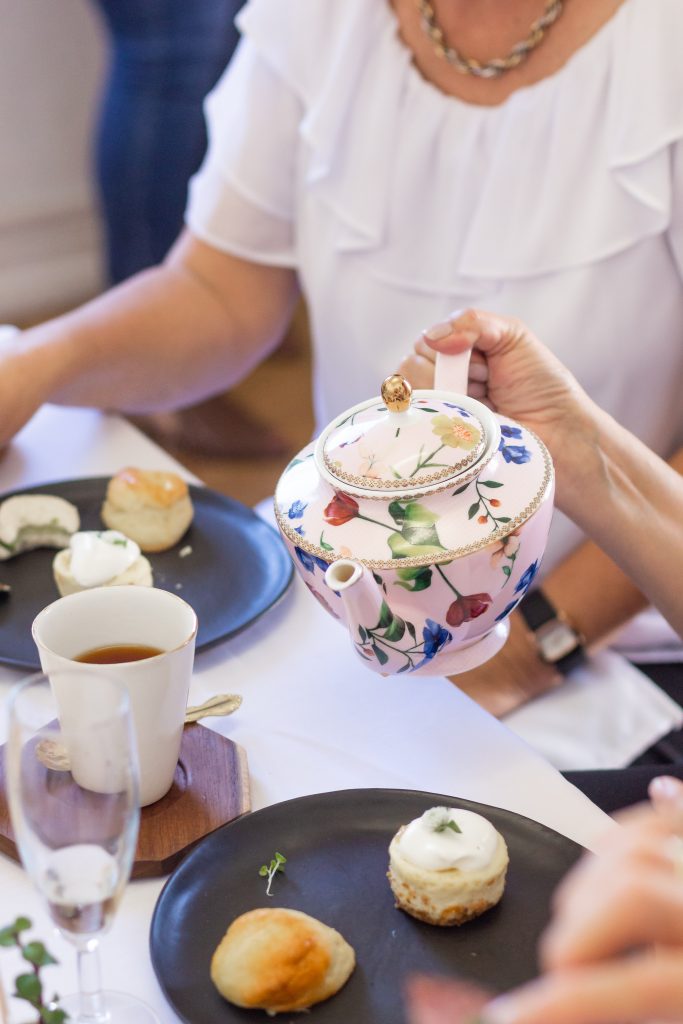 Tea Party Essentials:
Tablecloth: A crisp, white tablecloth is the perfect base for your table set-up.
Fine China Teapot, Cups and Saucers: First order of business is finding a beautiful tea pot and fine china. Eventlyst.com offers classy china fine sets for rental but if you can't find any rentals near you, consider buying a set you can reuse for many years to come or find at least a beautiful tea pot at a local Goodwill. There are cute paper plates options that look like fine china but real is always better.
Centerpiece:  A beautiful bouquet of fresh flowers in a vase is the perfect centerpiece for your party.
Additional items: You will also need small plates for dessert, dessert eating utensils, napkins and dessert displays (preferably tiered).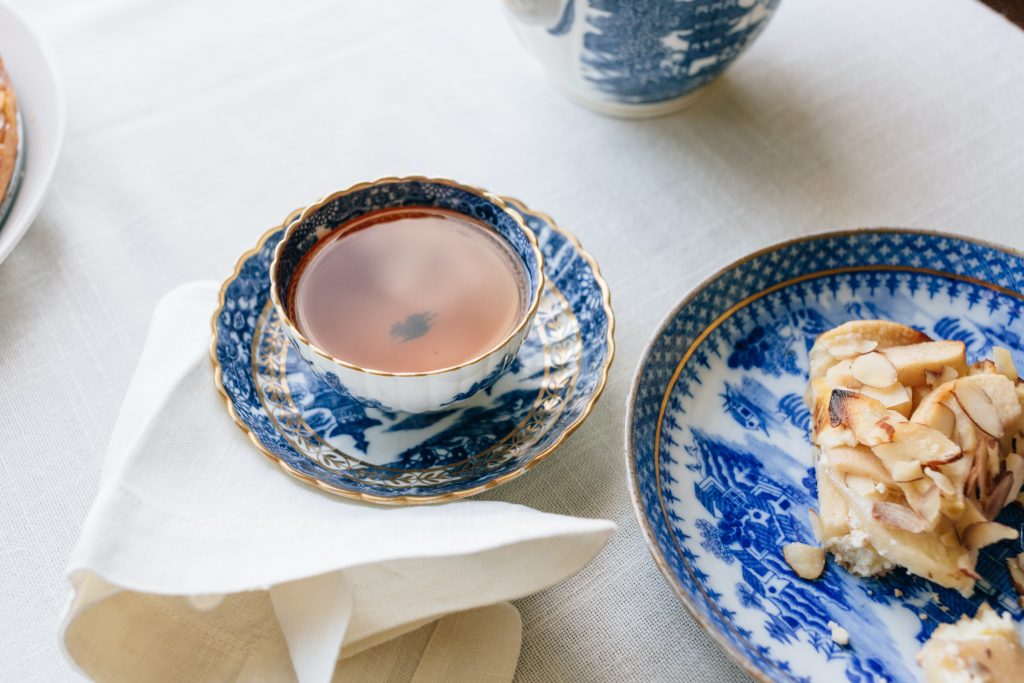 The Tea Party Spread:
What is the most essential part of tea party? TEA OFCOURSE! My favorite tea is Paris from Harney & Sons. You can also offer a variety of tea bags. Make sure you turn on the tea kettle and have hot water ready for your guests as soon as they are all seated. Double check the waters temperature prior to serving. Burning your tongue is not that exciting. Don't forget to serve milk, sugar, honey and lemon slices with your tea.
Mini sandwiches and finger desserts are commonly served at tea parties. If you can't think of any or have never made one, the Food Network has recipes for 50 classic tea sandwiches.
               Here are some fast and easy recipes from the Food Network that includes only a few ingredients. Assemble these sandwiches, cut off  the crust, then cut them into strips or triangles and done!
               Salmon-Cucumber:  Spread softened cream cheese on white bread. Sandwich with smoked salmon and sliced cucumber. Trim the crusts and cut into pieces.
               Lemon-Berry: Cut toasted English muffin halves into quarters. Spread with lemon curd and top with berries.
               Tomato-Cheddar: Spread mayonnaise on white bread. Sandwich with sliced tomato, aged cheddar and watercress. Trim the crusts and cut into pieces.
Add some sweet to the savory and serve the classics: French macarons, scones, and various small tarts.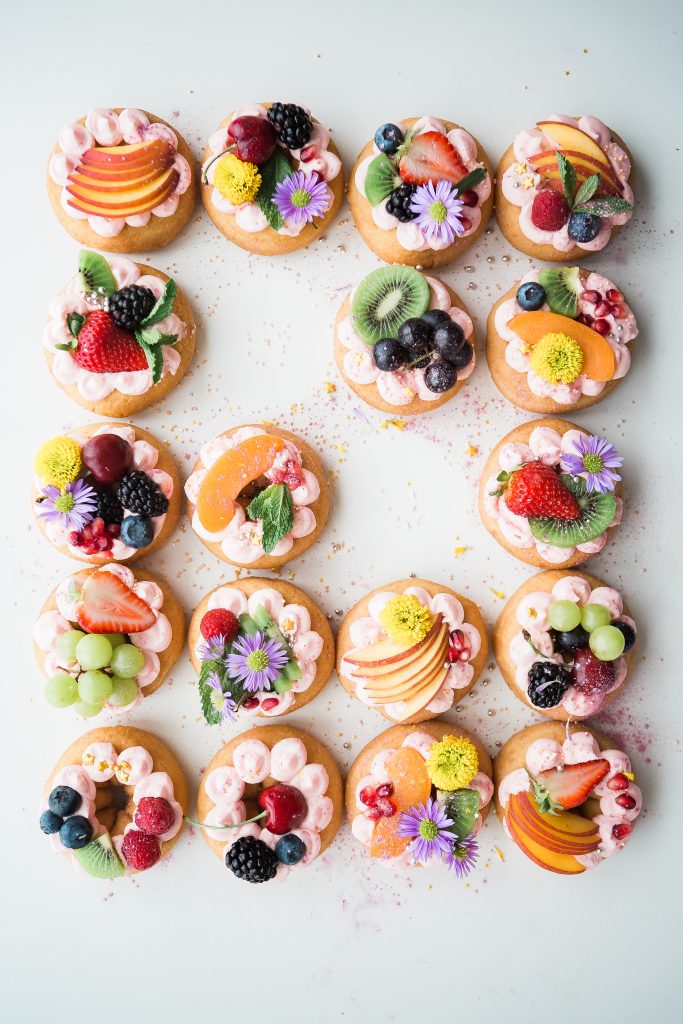 Tea Party Entertainment:
A tea party is a classy affair. So, what do you do at tea parties? Tea parties are usually mainly for talking, drinking tea, and just spending quality time with your friends but that doesn't mean you can't play any games.
Here are a few classy, fun games you can play that were found on thespruce.com:
Cube Stacking: Have players sit around a table. Give them each a box of sugar cubes. Set a timer for two minutes. See who can stack their sugar cubes the highest.
Lookabout: Lookabout is a traditional Victorian game that can be played at tea parties. To play, hold up a teapot for all players to see. Have them leave the room, and once they are gone "hide" it out in the open (where it can be seen but is not obvious). Have the players come back into the room and quietly look around for the teapot. When a player spots the teapot, they don't say anything, but rather take a seat. The last player left standing must choose and hide the next item (such as a teacup, sugar bowl, creamer, etc.).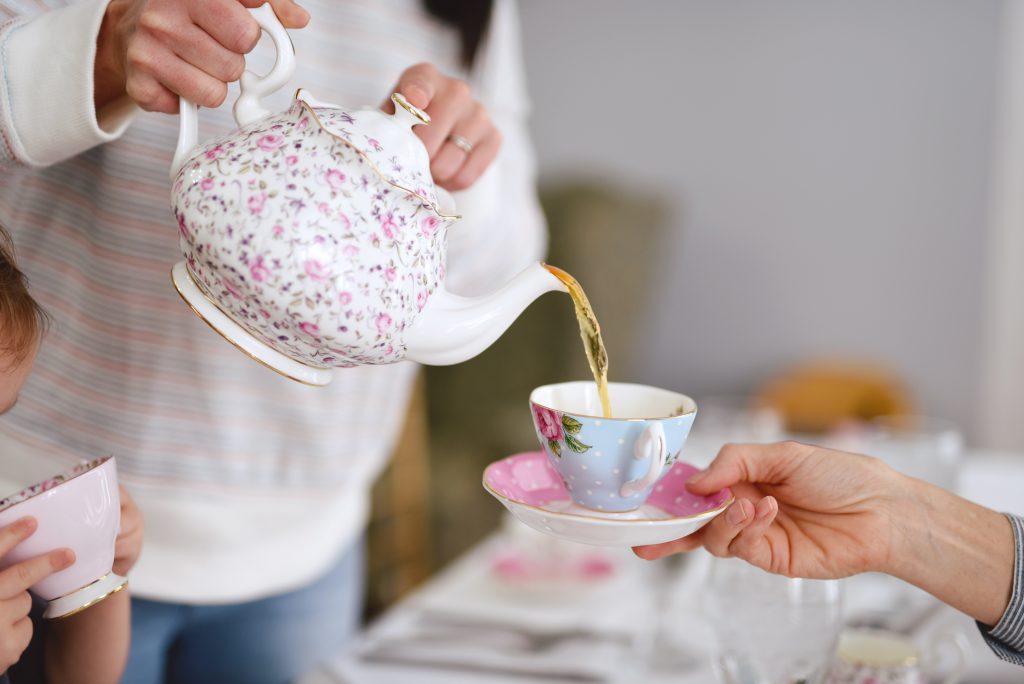 Tea Party Favors:
Send your friends home with a box of their favorite treats from the party. Order extra macarons or scones and pack them in a perfect little clear box so your guests can take them home after the party. You could also create satchels of loose leaf tea that you served your guests at the party. Another easy favor idea is chocolate candy. Bonus points for a personalization with a sticker or gold marker.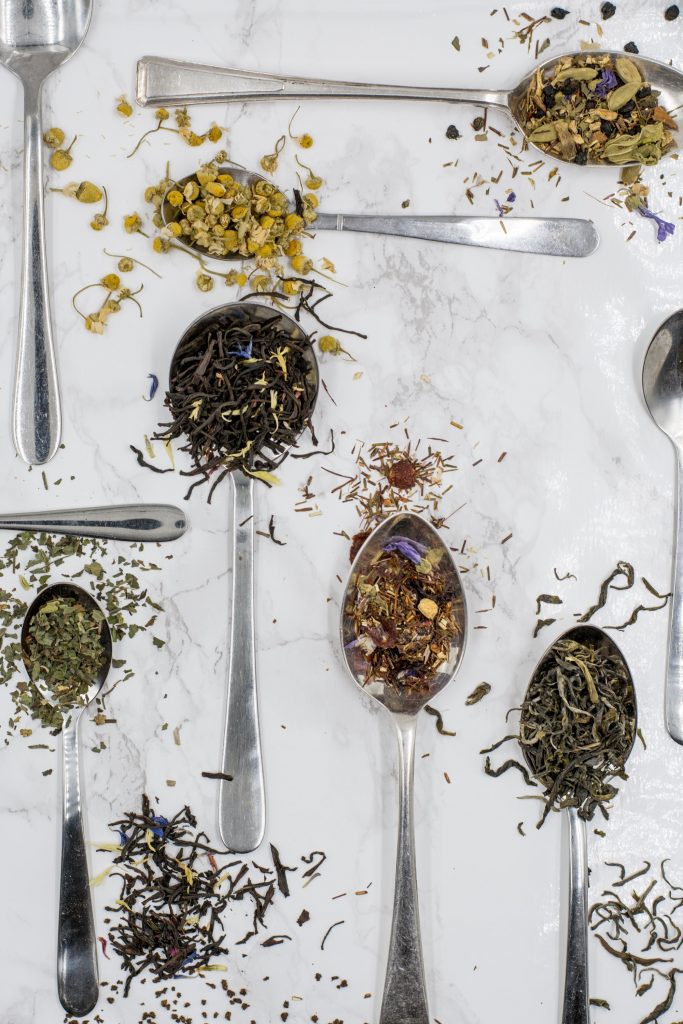 Trending tea party items you might consider adding:

Wonder how Tea Time has come to be?
( Article: This is what Afternoon Tea by Ben Johnson )
 "Afternoon tea, that most quintessential of English customs is, perhaps surprisingly, a relatively new tradition. Whilst the custom of drinking tea dates back to the third millennium BC in China and was popularised in England during the 1660s by King Charles II and his wife the Portuguese Infanta Catherine de Braganza, it was not until the mid 19th century that the concept of 'afternoon tea' first appeared.
Afternoon tea was introduced in England by Anna, the seventh Duchess of Bedford, in the year 1840. The Duchess would become hungry around four o'clock in the afternoon. The evening meal in her household was served fashionably late at eight o'clock, thus leaving a long period of time between lunch and dinner. The Duchess asked that a tray of tea, bread and butter (some time earlier, the Earl of Sandwich had had the idea of putting a filling between two slices of bread) and cake be brought to her room during the late afternoon. This became a habit of hers and she began inviting friends to join her.
This pause for tea became a fashionable social event. During the 1880's upper-class and society women would change into long gowns, gloves and hats for their afternoon tea which was usually served in the drawing room between four and five o'clock ."