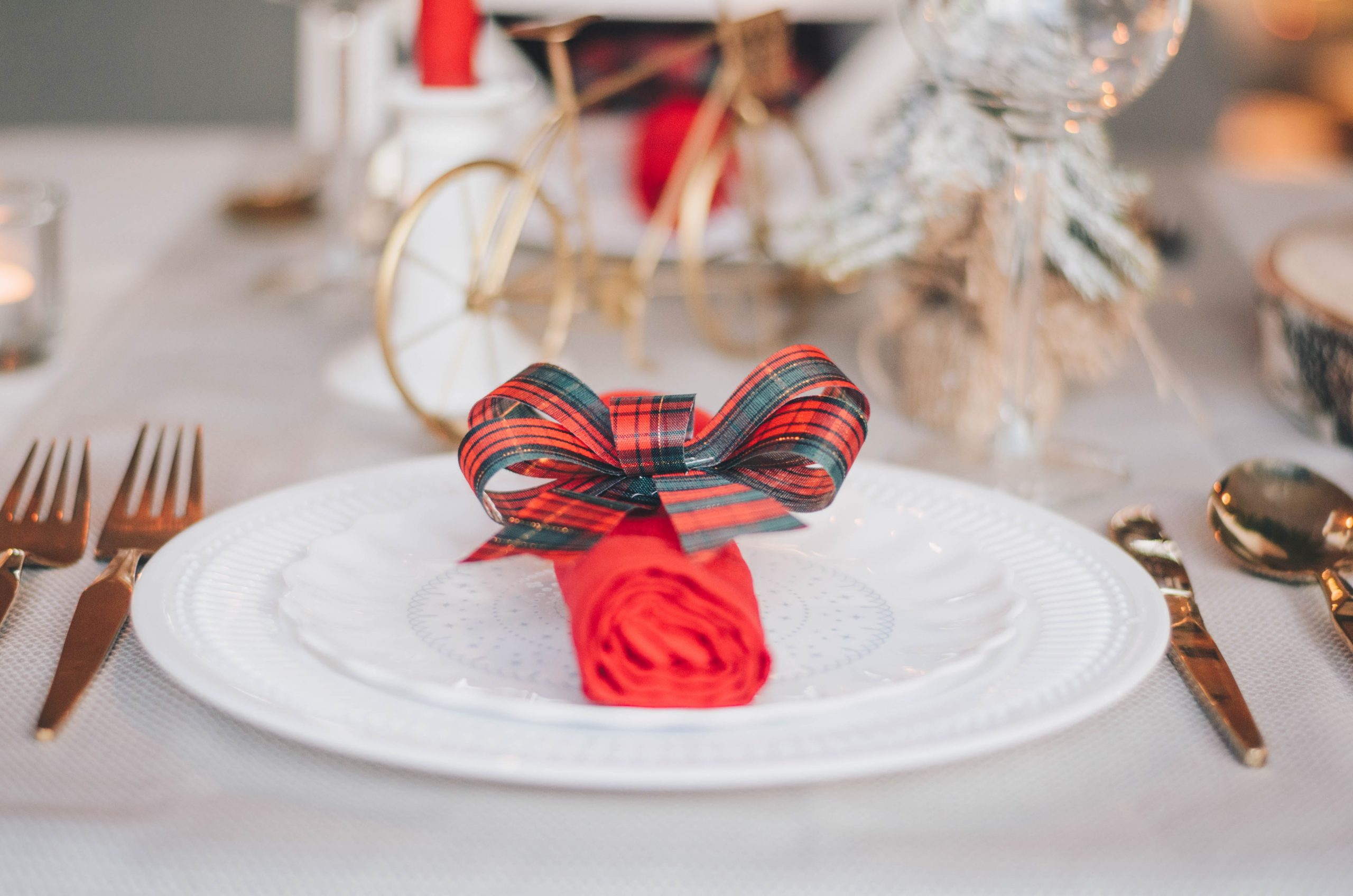 Follow along on our Christmas countdown journey featuring tablescape designs, party ideas, and recipes. We hope your Christmas will be merry and bright and of course memorable!
DAY 1 – Around the Dinner Table
Something as simple as a family Christmas dinner can be elevated and made festive. Add a plaid Christmas bow to your napkins or rent gold flatware for the occasion. Simple additions go a long way.
Eventlyst.com offers unique rentals for all occasions! You can find beautiful candleholders, cloth napkins and gold flatware available for rental in multiple cities.
Can't find a vendor in your city? Amazon offers a big variety. You can find plaid bows, mini table Christmas tree, and the quality disposable gold utensils.
Day 2 – A Vintage-style Christmas Party
Are disco balls slowly making a comeback?! Honestly, I'm still not 100% certain but I know they have been used more and more in event decorations. Disco balls are just another fun 70's item you can add to a glamourous vintage themed Christmas party.
Eventlyst Rental Items:  Disco Ball  |  Polaroid Camera  |  Champagne Coupes
Amazon: Tinsel Foil Curtains  |  Disco Balls  |  70's Decor
Day 3 – Don't forget your furry friends!
The kitchen is filled with smell of freshly baked gingerbread cookies. The dog is pacing the floor anxiously waiting for a taste test, but little does he know these cookies will only upset his stomach. We found an easy dog treat recipe that you can even double and gift to other dog parents for Christmas. Cut the cookie dough with fun Christmas themed shapes and package baked cookies in clear goodie bags. Merry Christmas to all…including the dogs!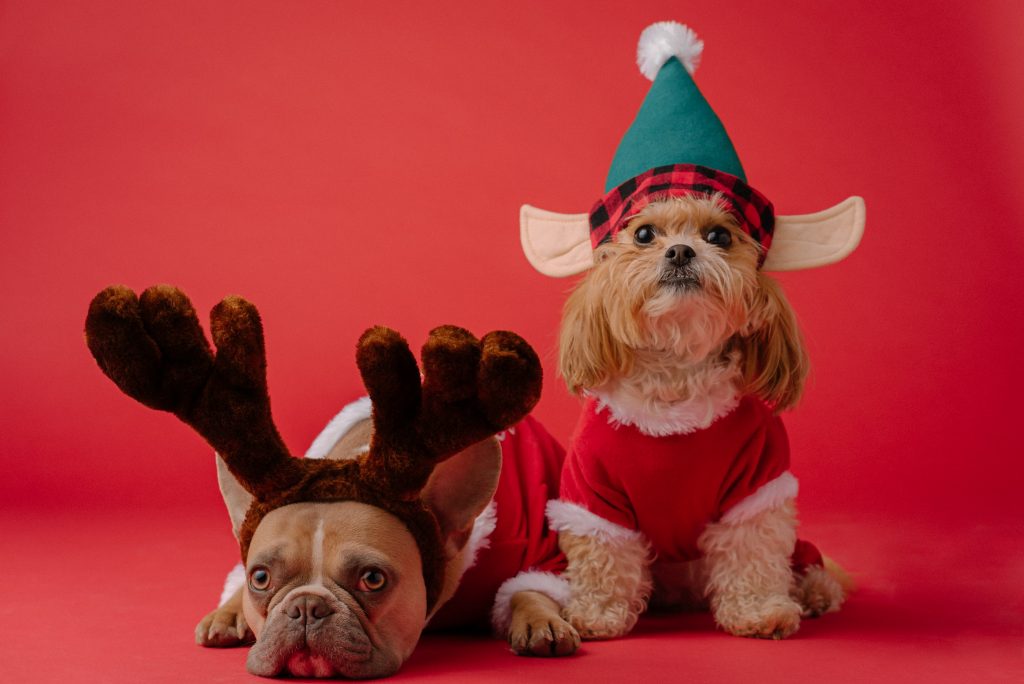 Recipe and recipe pictures:
Homemade Dog Treats Recipe – Peanut Butter Dog Treats (How-to Video) (thecookierookie.com)
Day 4 – Literally a Jolly Christmas…Card
If you're a boring person, stop reading now because this idea is for the ones that are willing to risk it and make others smile. Take the ugly Christmas sweater to a whole new level – wear it when taking pictures for your Christmas card. Not only will you probably have the most unique Christmas card on the mantle, but your friends will smile every time they see it. You're welcome.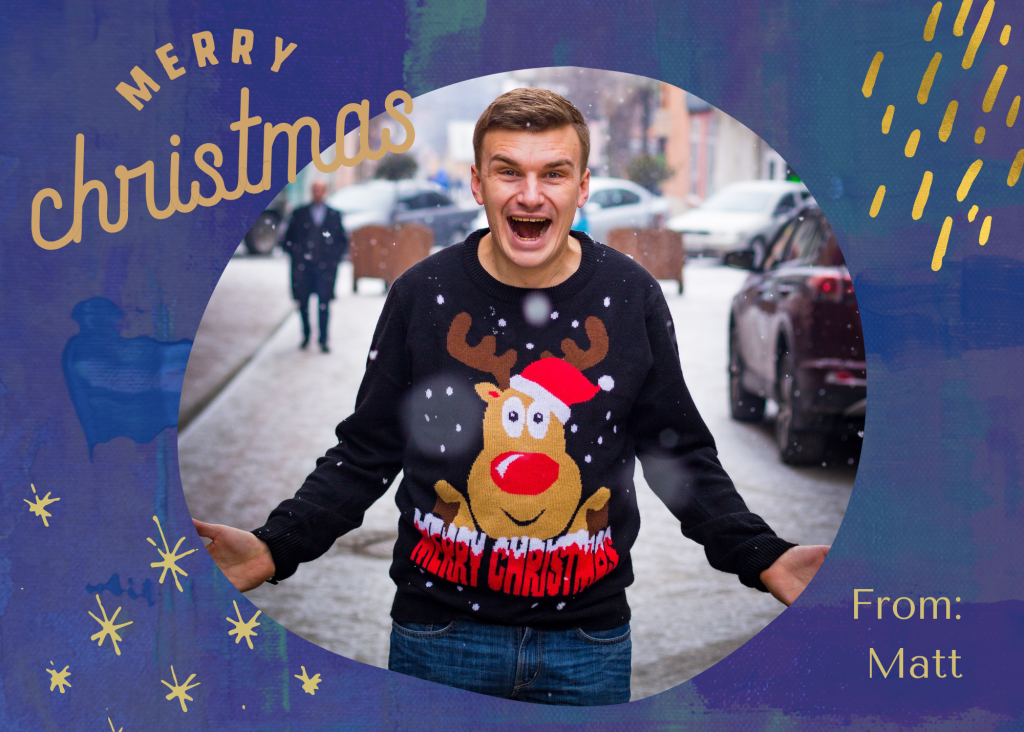 Ugly Christmas Sweaters  |  Custom Christmas Card