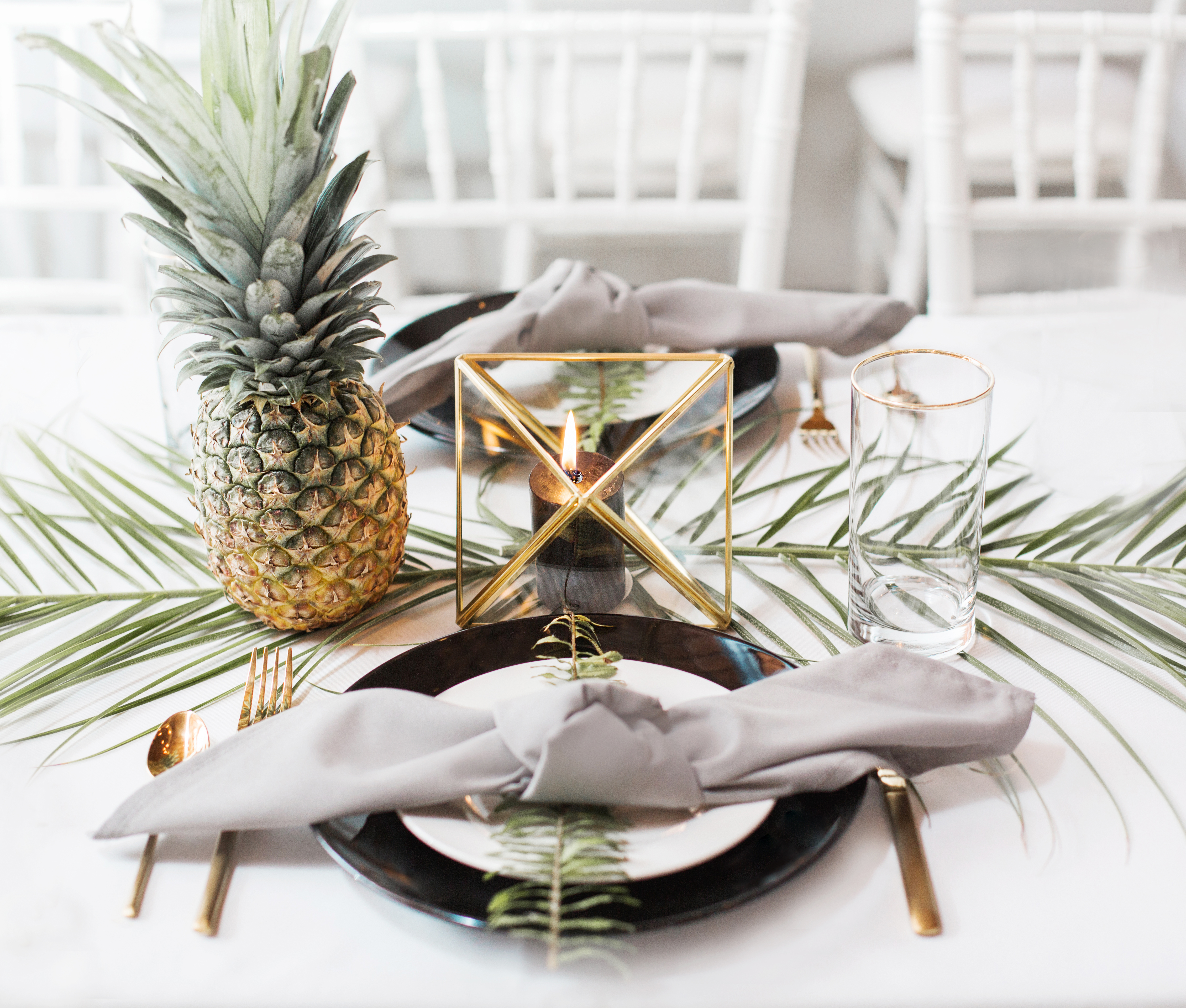 So it's your birthday and unfortunately you're not in a tropical place, but why not bring the tropics to you! All you need is some pineapples, palm trees and a few balloons (or a lot) and you're good to go! Here are some must have tropical theme party ideas for your next birthday bash!
Tropical Chic Photo Backdrop & Calligraphy
In order to have a tropical chic party you definitely need to have a cool and sophisticated space in which to throw the tropical party! This 30th birthday party took place in a crisp and clean studio in Sacramento CA and was a perfect canvas with its beautiful white brick walls. The walls made the perfect canvas for the tropical chic photo backdrop. If you're having a birthday party then numbered foil mylar balloons are a must! The number "30" mylar balloons can be found at Party City or Amazon and looked super fun against the huge palm branches! You absolutely need to incorporate palm leaves or branches in order to complete the tropical theme. Doesn't this 30th birthday party backdrop make you feel like you're at a party in Los Angeles! Gotta love those LA palm tree vibes! In addition to the 30th birthday party backdrop sprinkle in some calligraphy and signage to give your tropical chic party some more character and to make your guests feel welcome!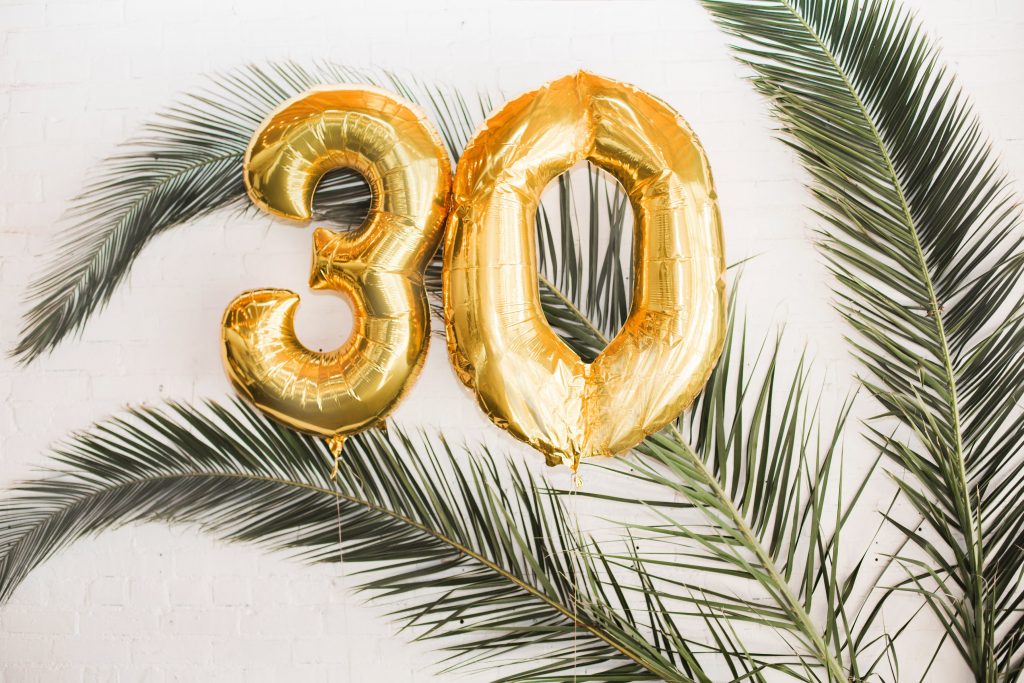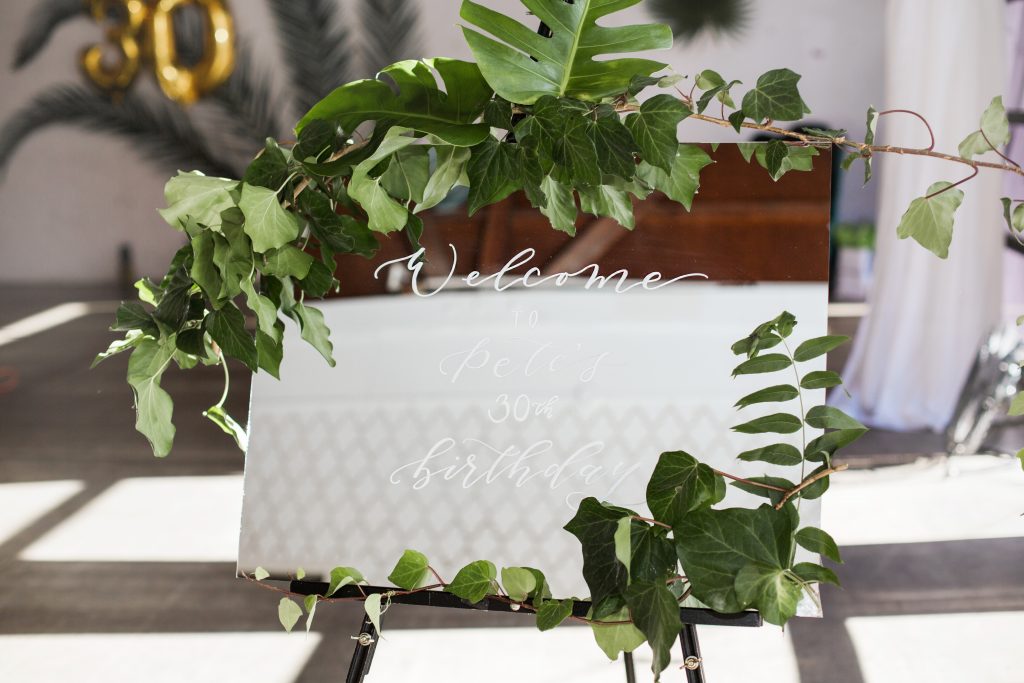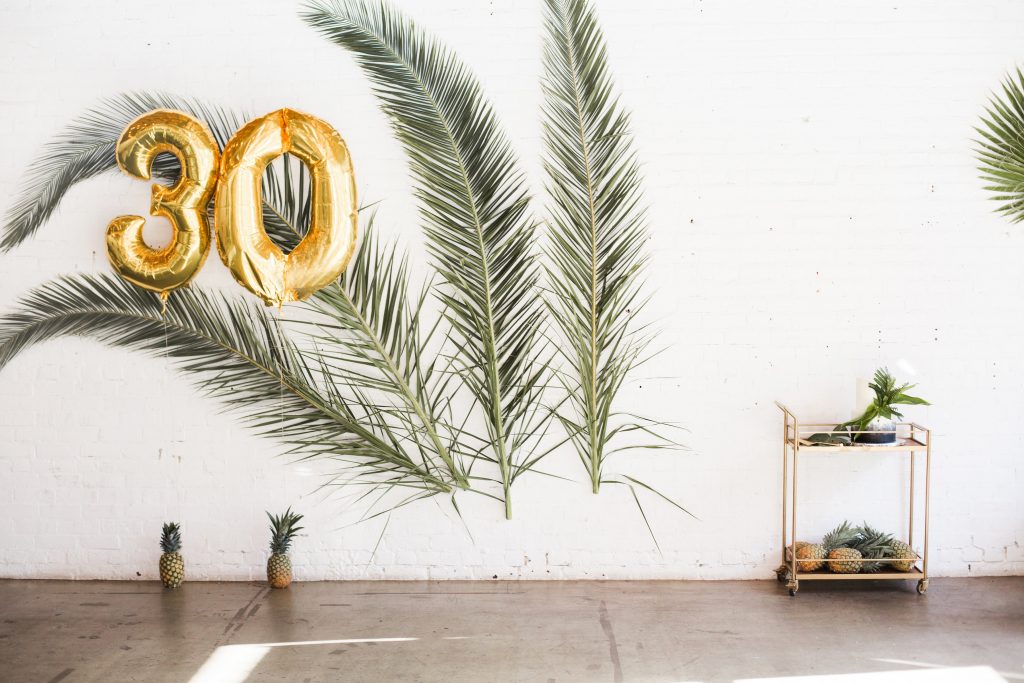 Tropical Chic Party Table Decor Ideas
It's not a tropical party with out pineapples! Love the idea of have real fruit as table decor because not only does it look good but you can eat it later! To give the tablescape a chic and modern look the pineapple centerpieces were paired with geometric lanterns that were filled with a black candle. The small palm branches along the table acted like a table runner and really gave the dining tables that tropical look as if guests are partying in the tropics but in a sophisticated way! Tropical themed parties do not have to be tacky! As you can see this tropical 30th birthday party turned out to be very tropical and fun but mature at the same time.
Continuing with the tropical theme, the table numbers consisted of big lush tropical leaves with calligraphy done by Ashley Baumgartner. They added another tropical yet minimalistic touch to the tablescape. The black, gold, white and gray dinnerware also balanced out the tropical theme with sophistication and class which was a perfect fit for a tropical 30th birthday party. All the dinnerware and geometric lanterns were provided by Anya from Stella Rentals and Design.  Additional rentals can be found Eventlyst.com.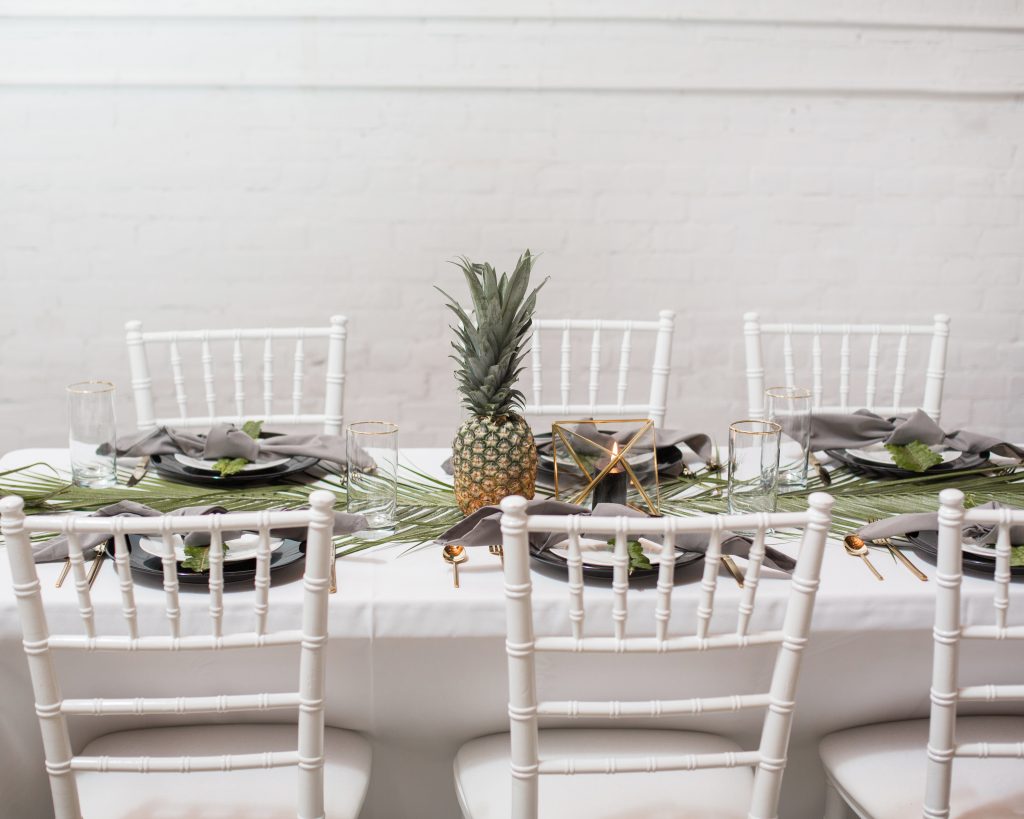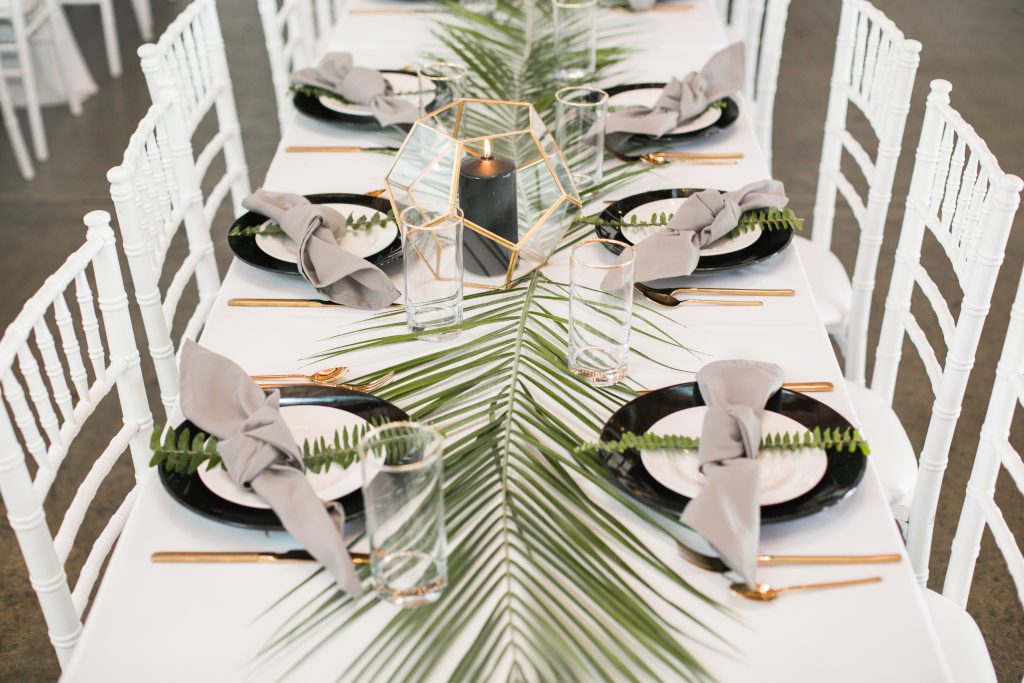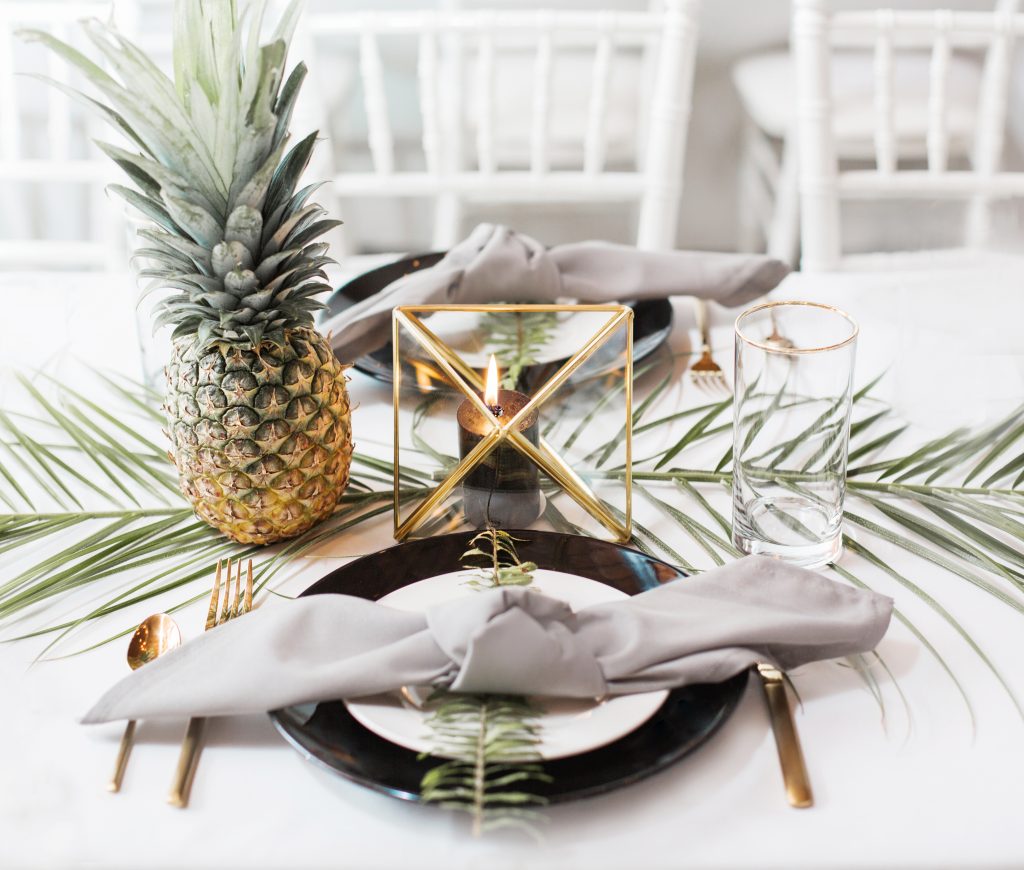 Alright let's talk place cards! These minimalist and modern place cards were made by simply taking the glass from small picture frames. Search your local thrift stores for small photo frames and you can do the same. An alternative is purchasing acrylic cards. Ashley Baumgartner again did the calligraphy by hand and to give them a tropical touch the place cards were each placed on top of a blade of sword fern.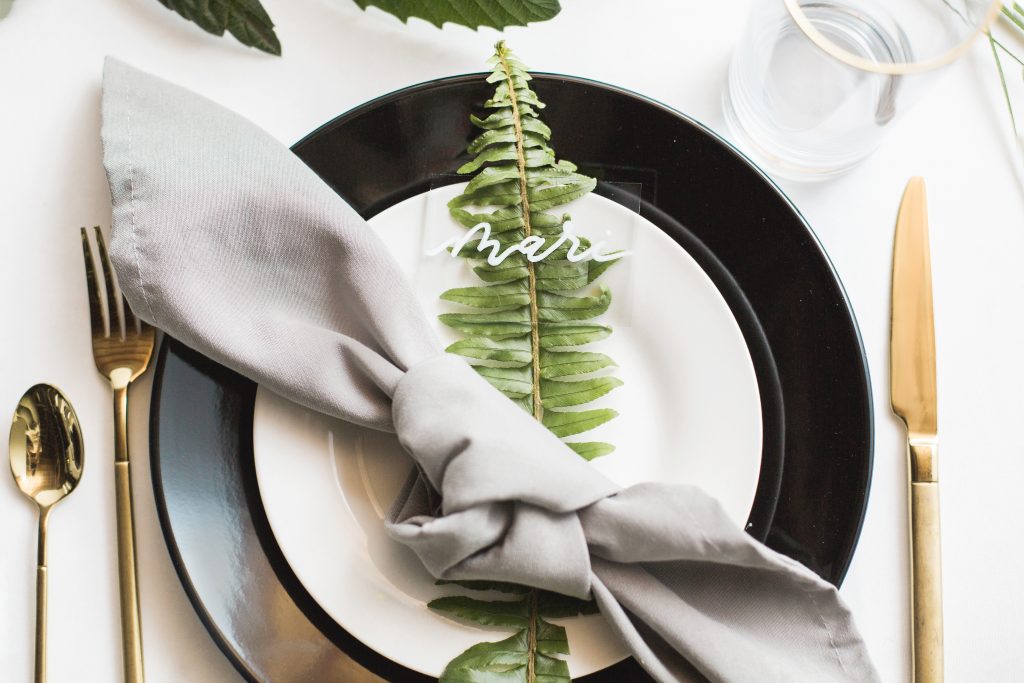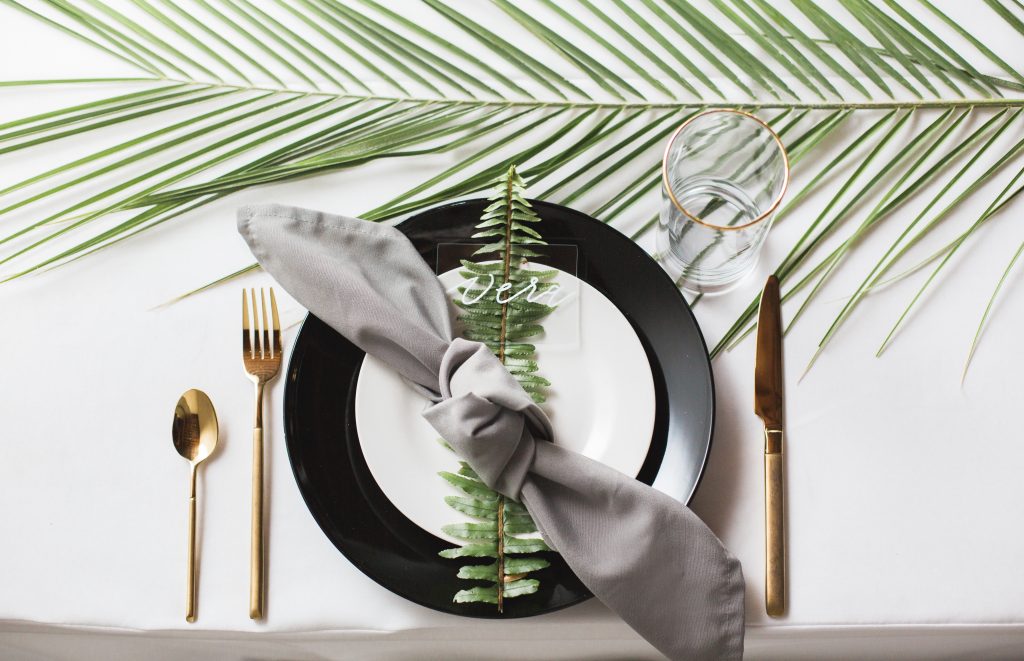 Tropical Chic Party Dessert & Tropical Cake
Time for dessert! Another great thing about having a tropical theme for a party or tropical wedding is that the fruit is part of the decor! Don't forget to add some foliage here and there to the dessert table to really spruce up the tropical theme. Okay… and now for the best part, how about that cake! It's almost too beautiful to eat (almost). The foliage face the already stunning black ombre cake a beautiful botanical touch and tied it in with the rest of the party decor. This tropical cake was made by talented Sacramento cake artist Rita.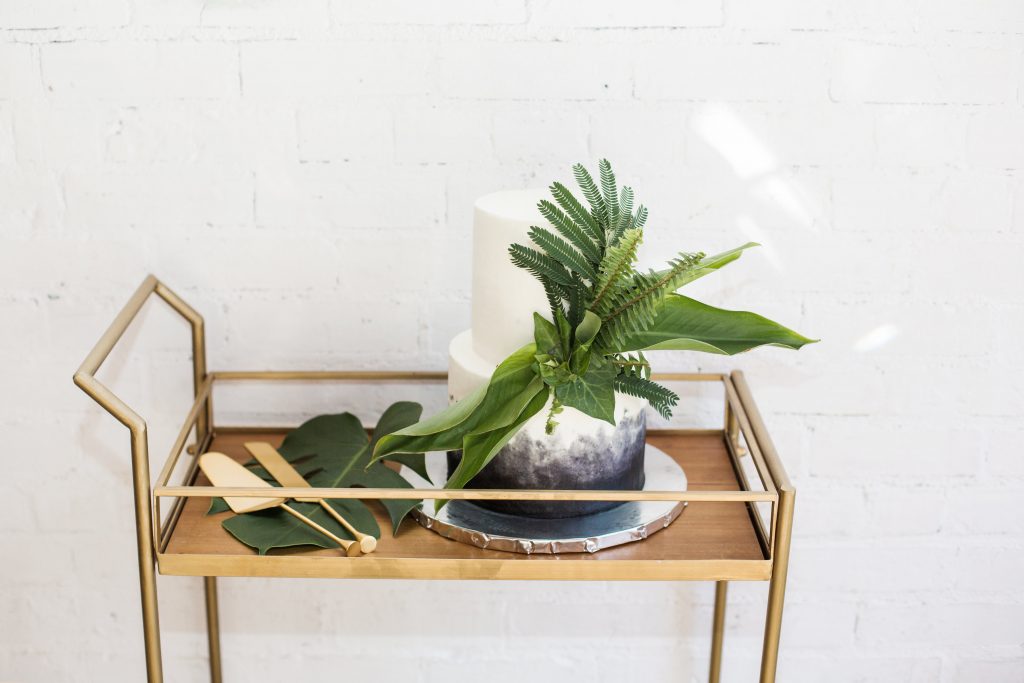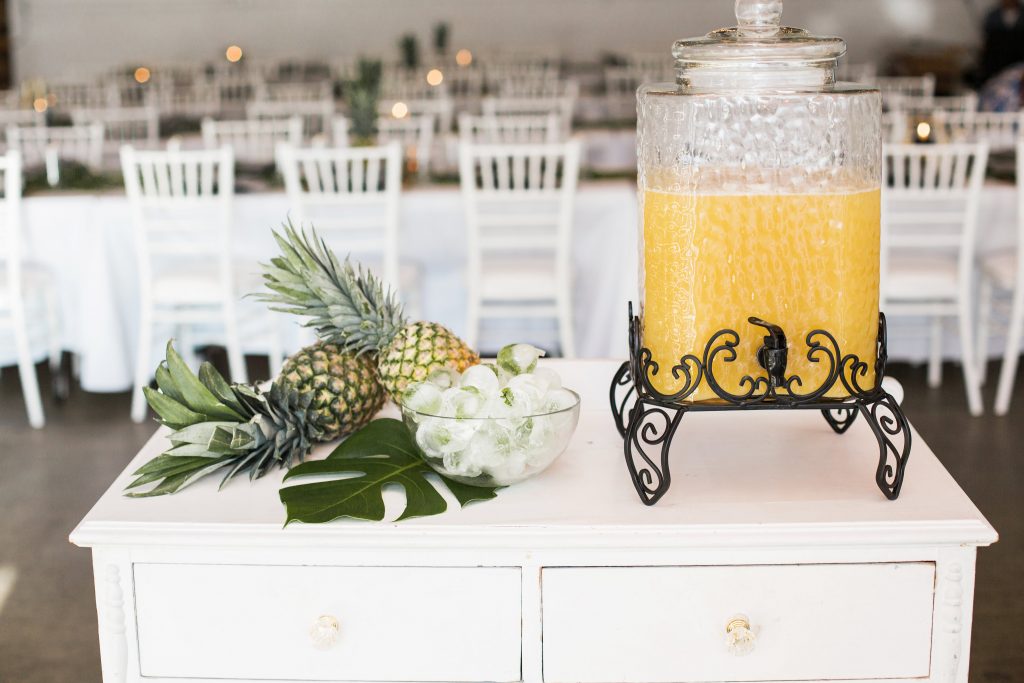 Tropical Party Theme Outfit Ideas
Now you and your guests need to look the part too! It's not a party without a cute outfit to match the tropical theme! The key thing is to think as if you're on vacation and include foliage, pineapples, palms trees, stripes and anything tropical on your clothing. Pastel and bright colors are definitely a good idea! Maybe even throw in a hula skirt and coconut bra for fun 🙂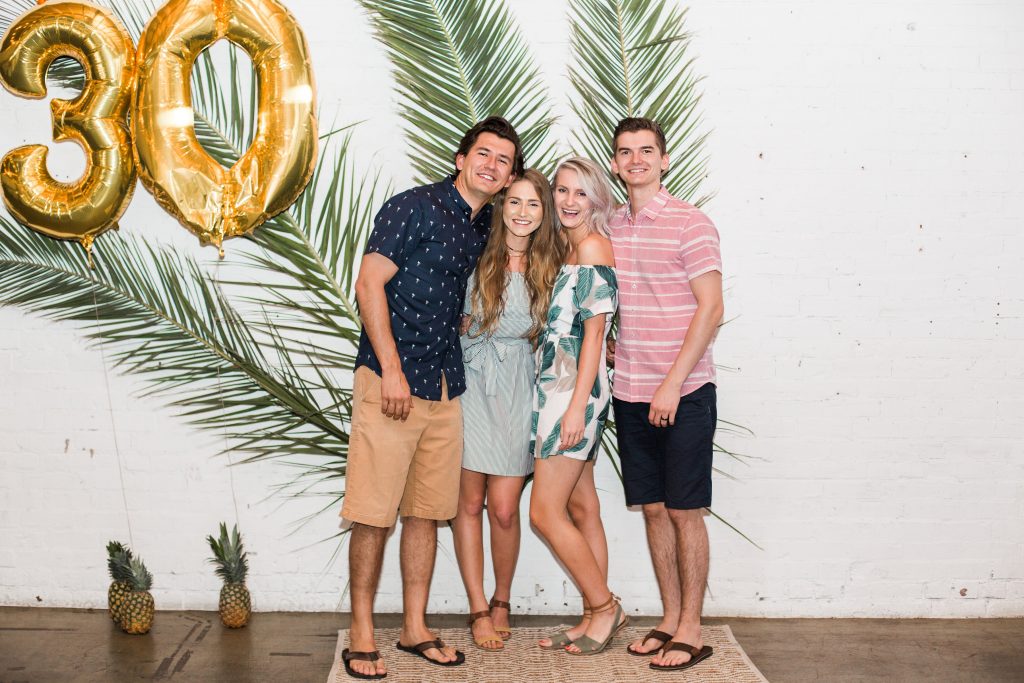 And there you have it! A tropical, botanical,  pineapple and chic themed party! It's the tropical party we've always loved but with a mature spin on it . Hope you enjoyed these tropical themed party ideas! Happy celebrating!