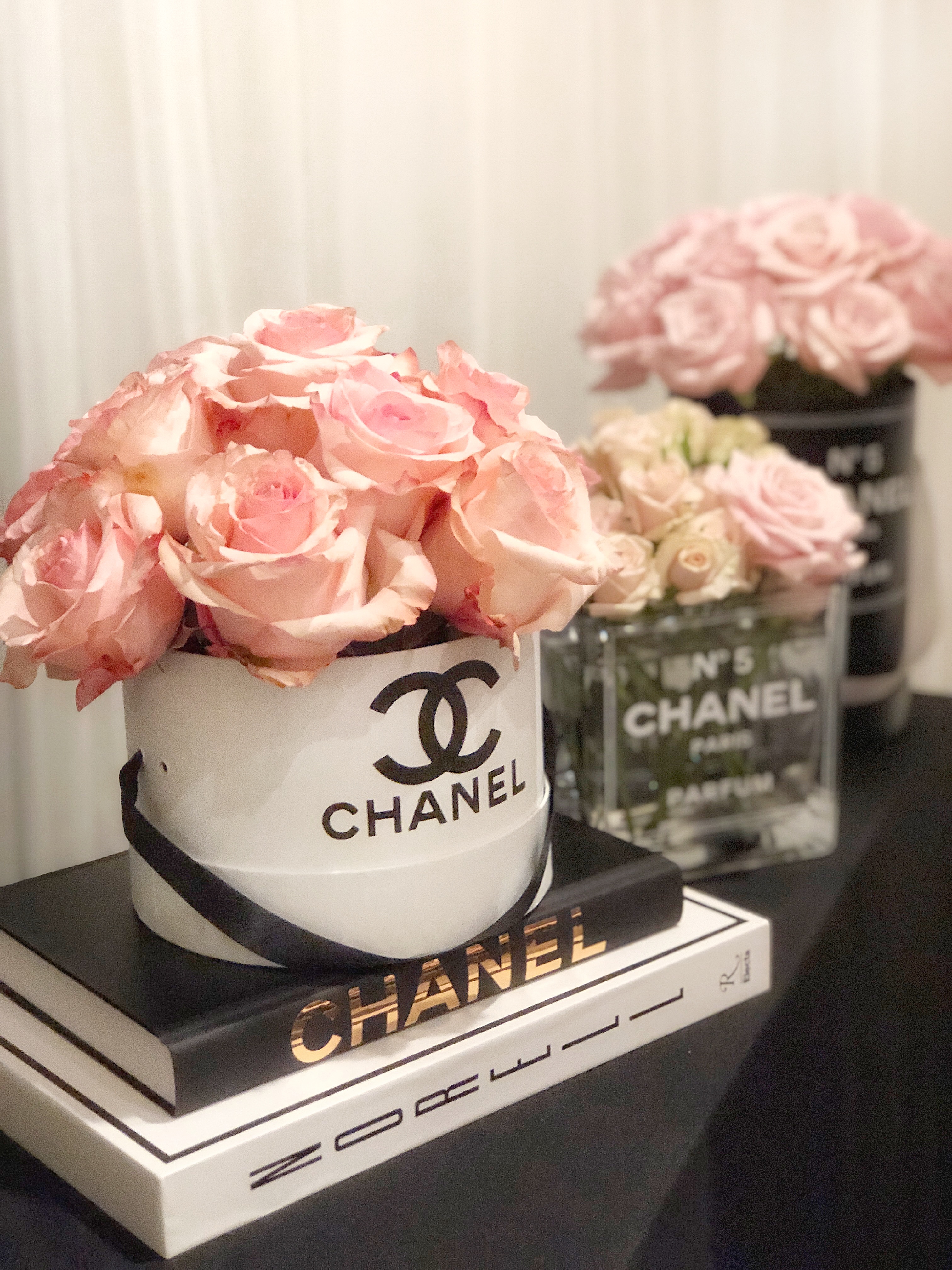 Who said themed birthday parties are only for kids? Not us! We want to share with you how to throw a grown up and sophisticated Chanel themed party! This designer party was thrown for a young woman with some expensive taste for her 25th birthday. It's fun and girly yet sophisticated and chic which is a perfect for any lady whether turning 25 or 75!
First of all, let's talk about centerpieces! Table decor is crucial when trying to execute a certain party theme but especially important when you're having more of a sit down dinner party. When doing Chanel themed party centerpieces you just HAVE to incorporate this famous brands iconic perfume bottle! Here we used gorgeous square vases from Bella Nozze and paired them with adorable stickers saying "No 5 Chanel Paris Parfum" stickers from Etsy.  We went and got all the roses we could that were in that similar range of pink and mixed them together for each of the arrangements.  The different sizes and hue variations worked out great!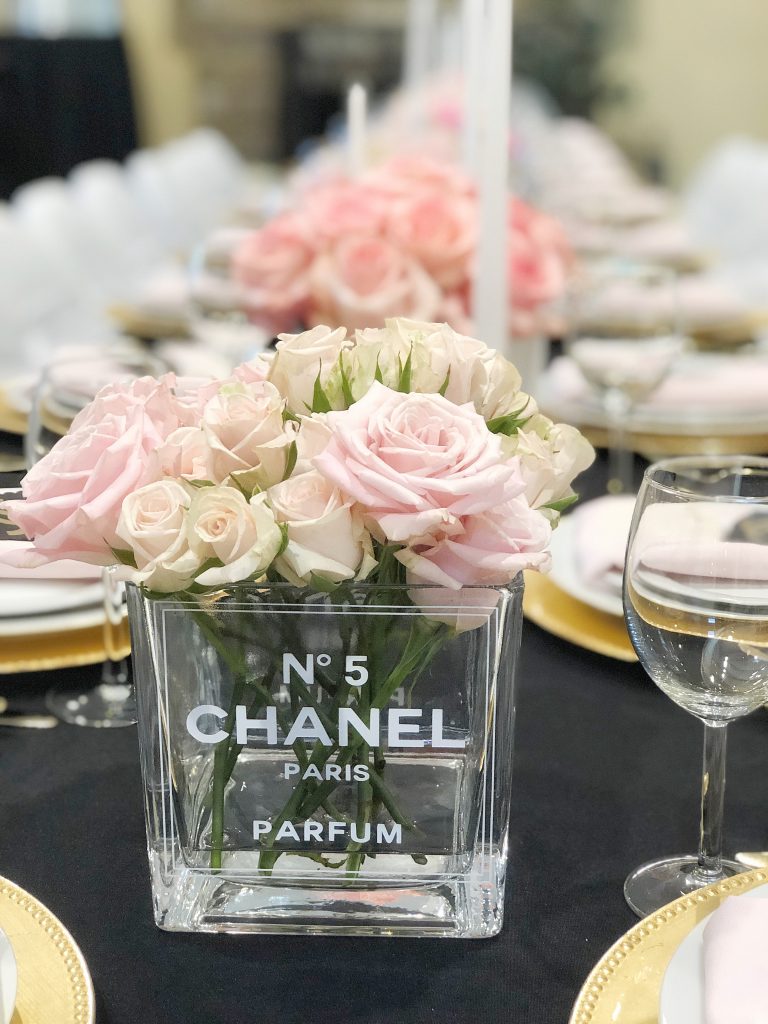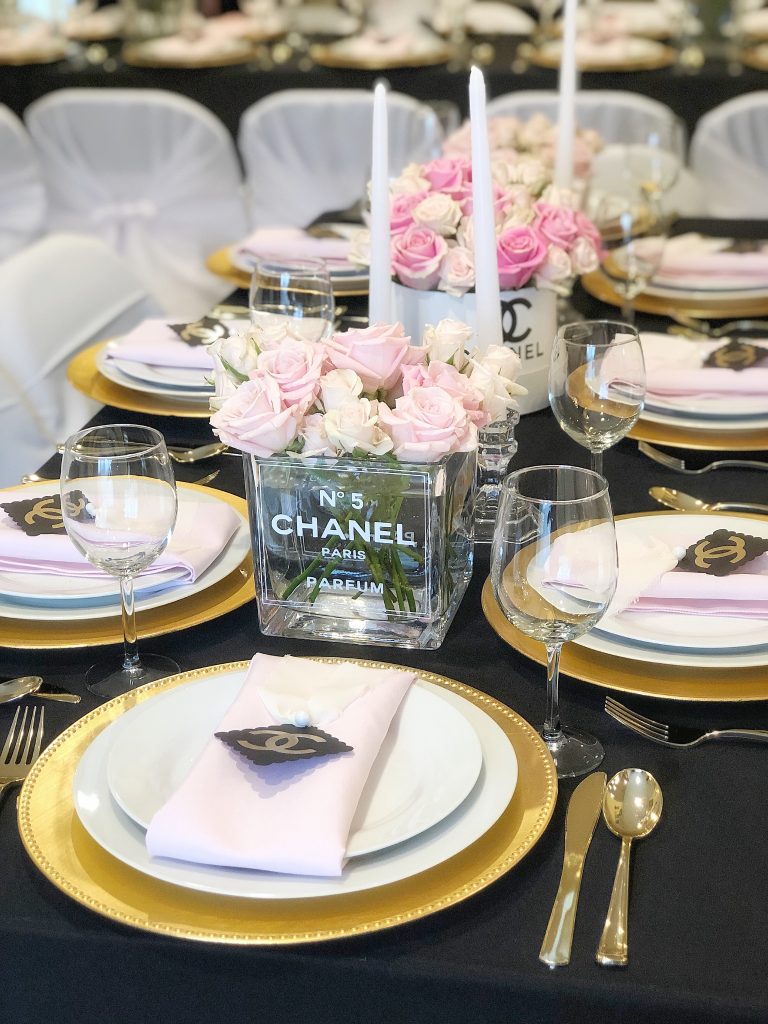 In addition to the perfume bottle arrangements, hat boxes with roses are also a must have at your Chanel party! They're super sophisticated, cute and easy to make! All you need is hat boxes and spray paint! Search your local thrift stores for small to medium hat boxes making sure they're not too big otherwise you will need a lot of roses. But hey, the more the merrier if anything! The arrangements used at this party had about 12-15 roses in each hat box. If you're going for a sophisticated and mature look, then definitely stick to basic black, white or light pink to paint over the hat boxes, gotta keep it classy ladies! Once you get one or two layers of paint, let it dry and you're ready for the chic Chanel stickers. Stick them on and Viola! You've got some gorgeous table centerpieces that Coco Chanel herself would be proud of!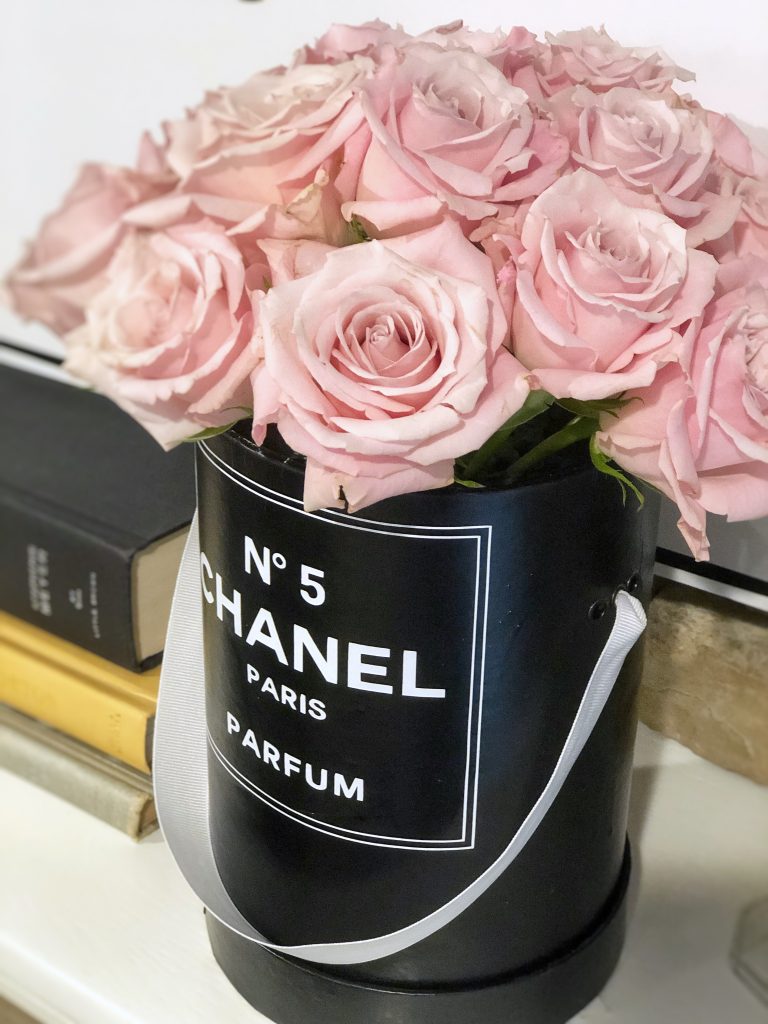 It's not a party without a backdrop and this Chanel backdrop was the perfect canvas for the Chanel birthday cake and treats! Best part is it was super simple to accomplish as well! You know what they say, Simplicity is the ultimate sophistication. For the backdrop tulle material was hung off a curtain rod. You can use actually chiffon/tulle window drapes or go to a fabric store and buy the material. For a solid white back drop we definitely recommend double layering with a thicker material behind the tulle! Now, as for the customized Chanel birthday sign you can have a graphic designer make the design and have a local company near you print it out. You can find great graphic designers on good ol' Etsy! Pair the sign with some much needed pink roses and you've got yourself chic and sophisticated Chanel backdrop!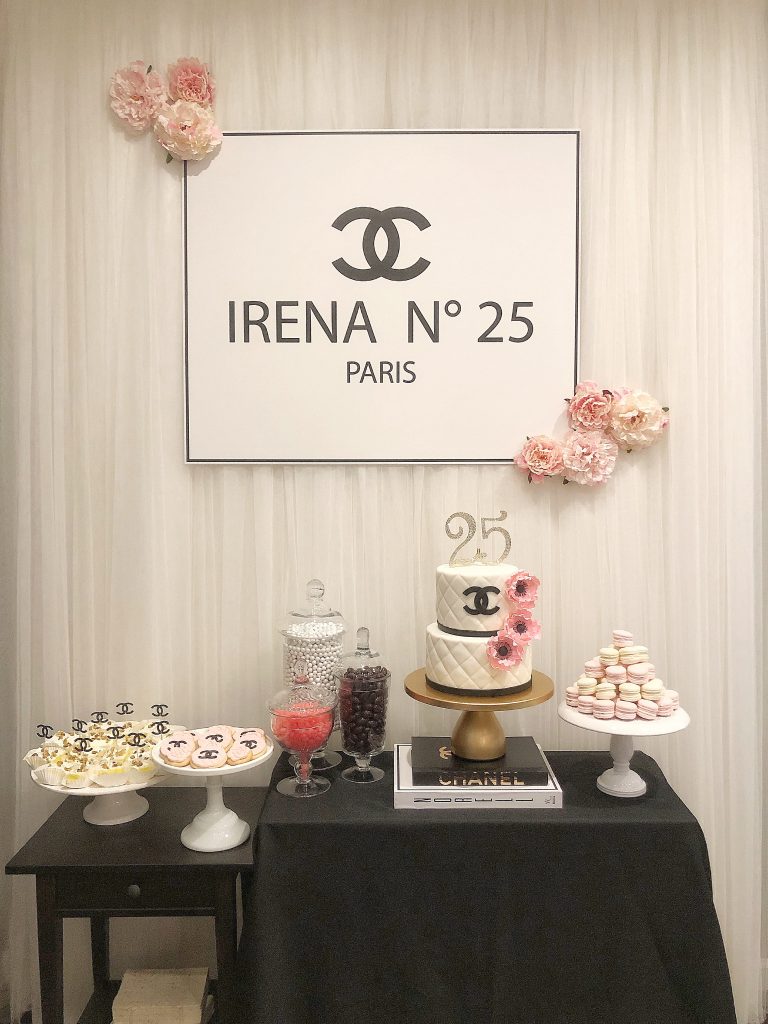 Cake! Everybody loves cake! Especially if it's a Chanel birthday cake! This chic cake is giving us major heart eyes! It's ALMOST too cute to eat. Local Sacramento cake artist Evelina from Yum Bakery made this tufted cutie as well as the macaron cookies. Evelina made the edible Chanel logo for the cake which gave it that perfect designer touch! The party planner and host hand made the roses and they are edible too! Talk about talent! To top off the cake a glam number "25" cake from Amazon was used and just like that you have a GORGEOUS  Chanel birthday cake!
In addition to the cake you need other treats at your Chanel themed party and these cookies did not disappoint! You can also order them from Etsy , piece of cake!  Besides the chanel cookies, you can also have jelly beans to match the color scheme and display the in classy glass vases. Even though it's candy you still need to keep it classy! Oh! And we just have to mention the Chanel book, how cute is that! You can also purchase that on Amazon or Etsy. The more Chanel logos you can get at your party the better! It's kind of like shoes, a girl can never have enough!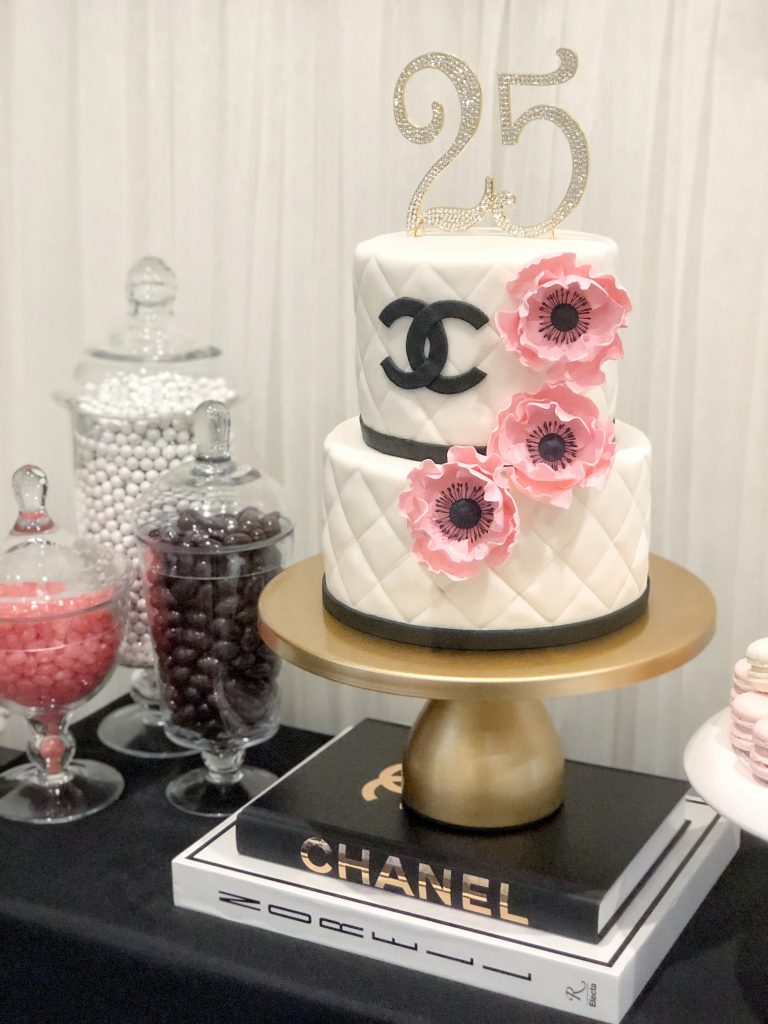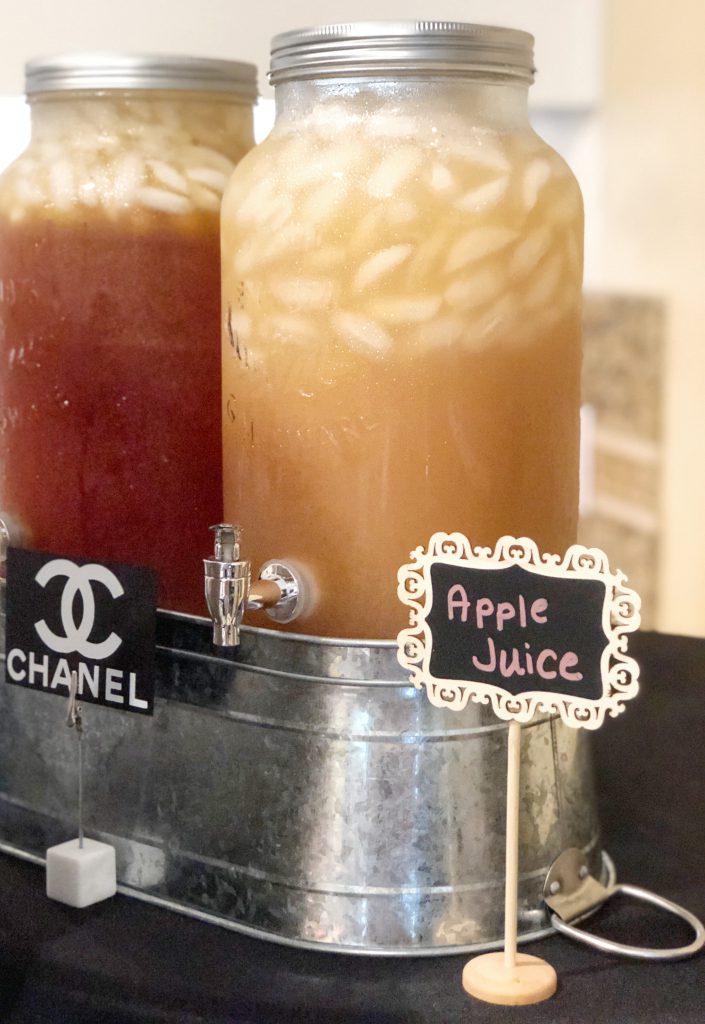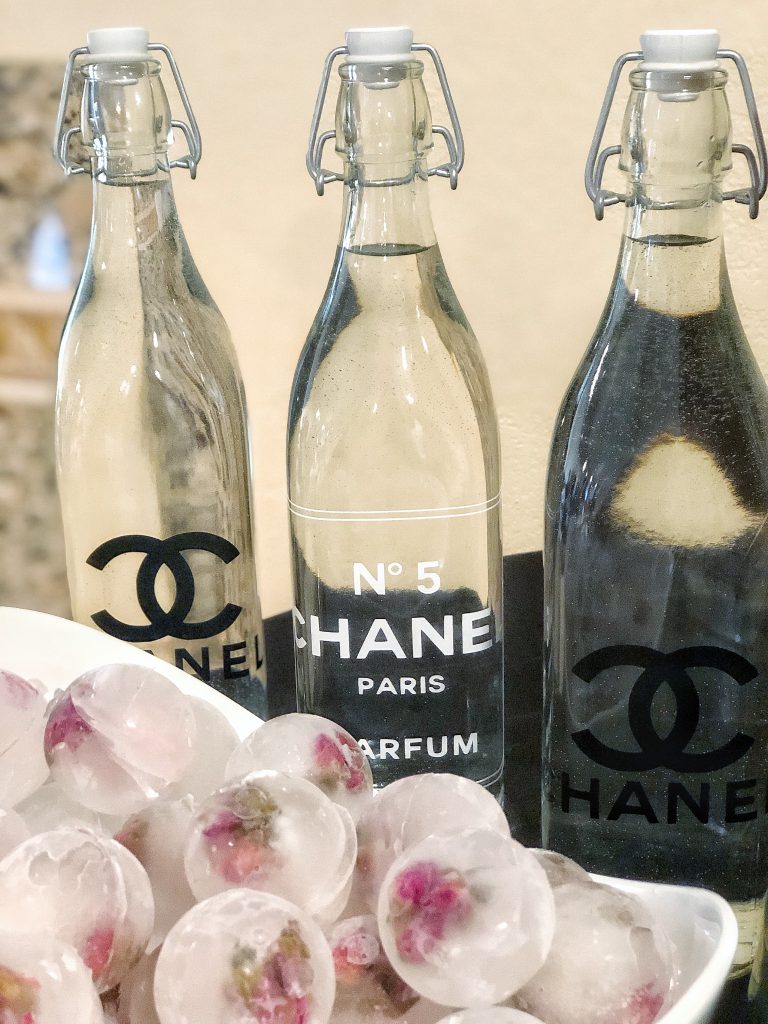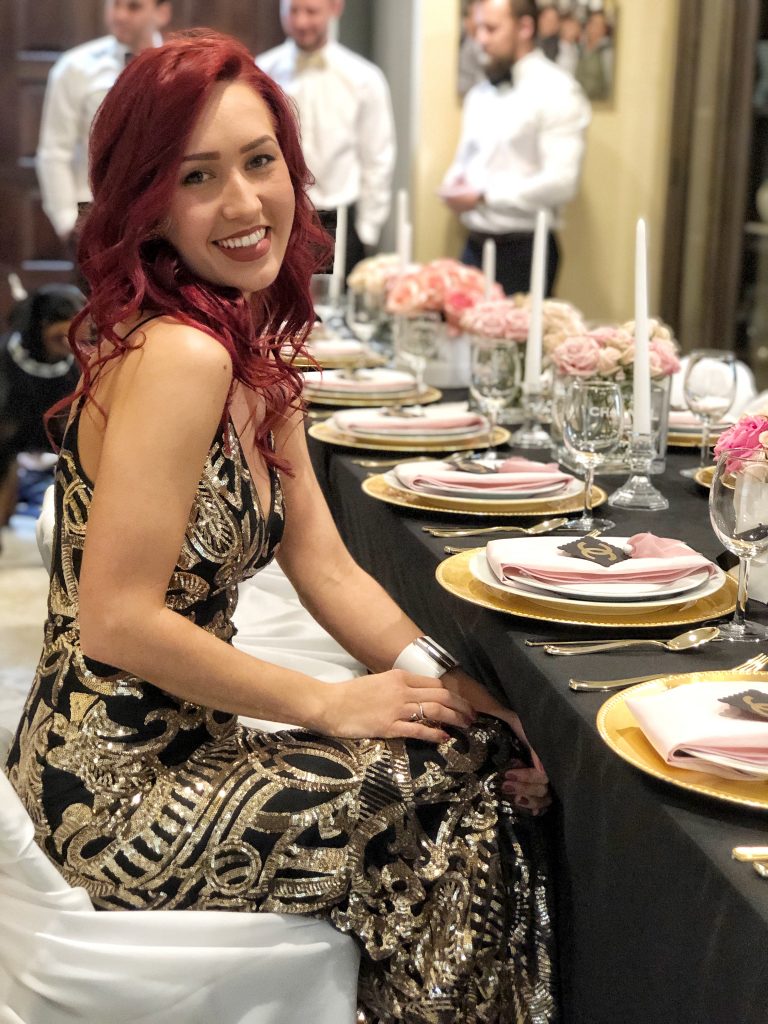 Now let's talk about more Coco Chanel party decorations! Sticking to the black, white pink and gold theme we should definitely recommend using black table linens to your table scape. The black gives the table decor that drama and sophistication that Chanel is all about! Classy dinnerware was used such as gold chargers with white plates, gold flatware, wine glasses and of course had a touch of pink with the napkins. It's the perfect combination of elegant and girly! The tables were lined with the Chanel perfume bottle centerpieces, flower hatboxes and elegant candle holders. In the words of Coco Chanel, these Chanel party decorations are definitely classy and fabulous!