My besties are turning 30! What a huge milestone in their lives and of course I can't pass the opportunity to throw a party. This is big, ginormous and I can't take the planning lightly. There was a pretty big task ahead of me to try and figure out how to combine two very different personalities into one party. Both girls have different interests and different things they enjoy. To begin I knew I had to incorporate both of their favorite colors which happen to be purple and green. My first thought… how in the world am I going to incorporate both of those colors into one party??? So Pinterest to the rescue! I had to dig up as many ideas as possible and put them into one party. After weeks of searching and collaborating with my sister, @anya_zubkov, I think I finally came up with the perfect idea to make both of my besties enjoy this purple and green party!
My final decision was to use Purple, Green and Polka Dots for the party. I kept it simple and classy and of course festive for my besties to have the best time of their lives. The end result got me feeling like I deserve a gold star. I was able to incorporate their favorite things into one party and stay under a tight budget. The beautiful table setting was so perfect that I even took a moment to just stand and admire the work.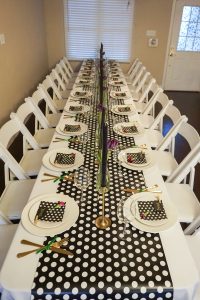 Time was also working against me. One thing I didn't mention was that my besties birthdays fall near Christmas and New Years. And by near I mean December 27th for the first and January 10th for the second. With the holidays in the way, I had to buy and order everything for the party within a two-week time frame. There was no way I could have done anything during the holidays so I had to wait till after New Years to get started. Thanks to Eventlyst and Memorable Events Rental I was able to find what I need quickly and reserve it for my date. The vendors were easy to communicate with and schedule pick up and drop off dates. All in all two weeks seemed like plenty of time with these vendors to get things done.
Now let's look at the details of the fabulous party. If anyone knows me at all they know that any party for me is all about the details. I love crafting the little things that all in all make the party that much more special and beautiful. This Christmas my besties, knowing me so well, got me the CricutAir 2 which is probably the best gift ever.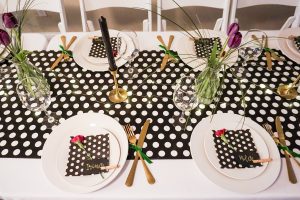 I was able to use it to make these beautiful name plates for my setting. They just added that extra touch that I absolutely love. The Glass Milk Bottles were on sale at Hobby Lobby along with the Black Taper Candles. The tulips were the perfect spark of purple to add to the party. On a side note I learned that you can pre-order flowers at Safeway to make sure you have the right flowers for your event. We ordered the most beautiful green velvet ribbon to compliment the gold flatware and add a little sparkle. All in all the details of this party just made everything look extra special and beautiful for my besties.
I really wanted to add something personal from me and special to the party so I decided to make little scrapbooks for each bestie for them to keep as a memory. I was on the hunt to find the perfect books. I absolutely dislike when the book is thick and you don't end up using the entire space so I wanted to find something that was going to be not as thick and I can fill the entire book for them. Once again Hobby Lobby had the perfect 8 x 8 black scrapbook albums that I was able to fill completely and leave space for guests to write wishes. These albums were probably my favorite detail of the party.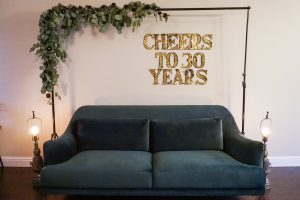 Now I had to come up with some type of photo booth where I can take photos of my girls with their guests. I really wanted to do something floral and ended up using a bouquet of purple flowers I got at Safeway and Eucalyptus for the base. I tied the Eucalyptus to the stand and then just stuck the flowers in randomly. The "Cheers To 30 Years" sign was also made with my Cricut, a very simple and quick DIY. I used Cricut to cut the letters and then added sparkles using glue.
A very big thank you to my husband, TheAndreys Events, who made the entire program for the evening. While I was out with the girls and getting them ready he was the host as guests were arriving. Each guest was welcomed and offered coffee or tea as they awaited the guests of honor. At 6:30 pm the guests of honor arrived to a beautiful cozy atmosphere with all of their favorite people in one room. It was a beautiful sight to witness. Big smiles on everyone's faces as the ladies walked in and spent some time hugging and saying hello to everyone. Once the evening progressed Andrei had all the activities planned out accordingly to keep everyone happy and smiling the entire time. My all-time favorite was when we made random guests breath in helium from balloons and read a pick-up line. The guests of honor were blindfolded and they had to guess who it was. All in all we laughed all through the evening as the time ticked quickly the girls fully enjoyed themselves.
The girls had a blast graciously stepping into their thirties. The whole day was nothing but smiles and of course, it made this party planner as happy as she could be. Very special thank you to @anya_zubkov, Eventlyst, Memorable Events Rental and TheAndreys Events (the BEST Sacramento Event Planners!) for making this party a successful one.
Follow me on Instagram, @dianahurzhyi, for more inspiration, events, photo shoots and life posts. Until next time.
Xoxo,
Diana Hurzhyi