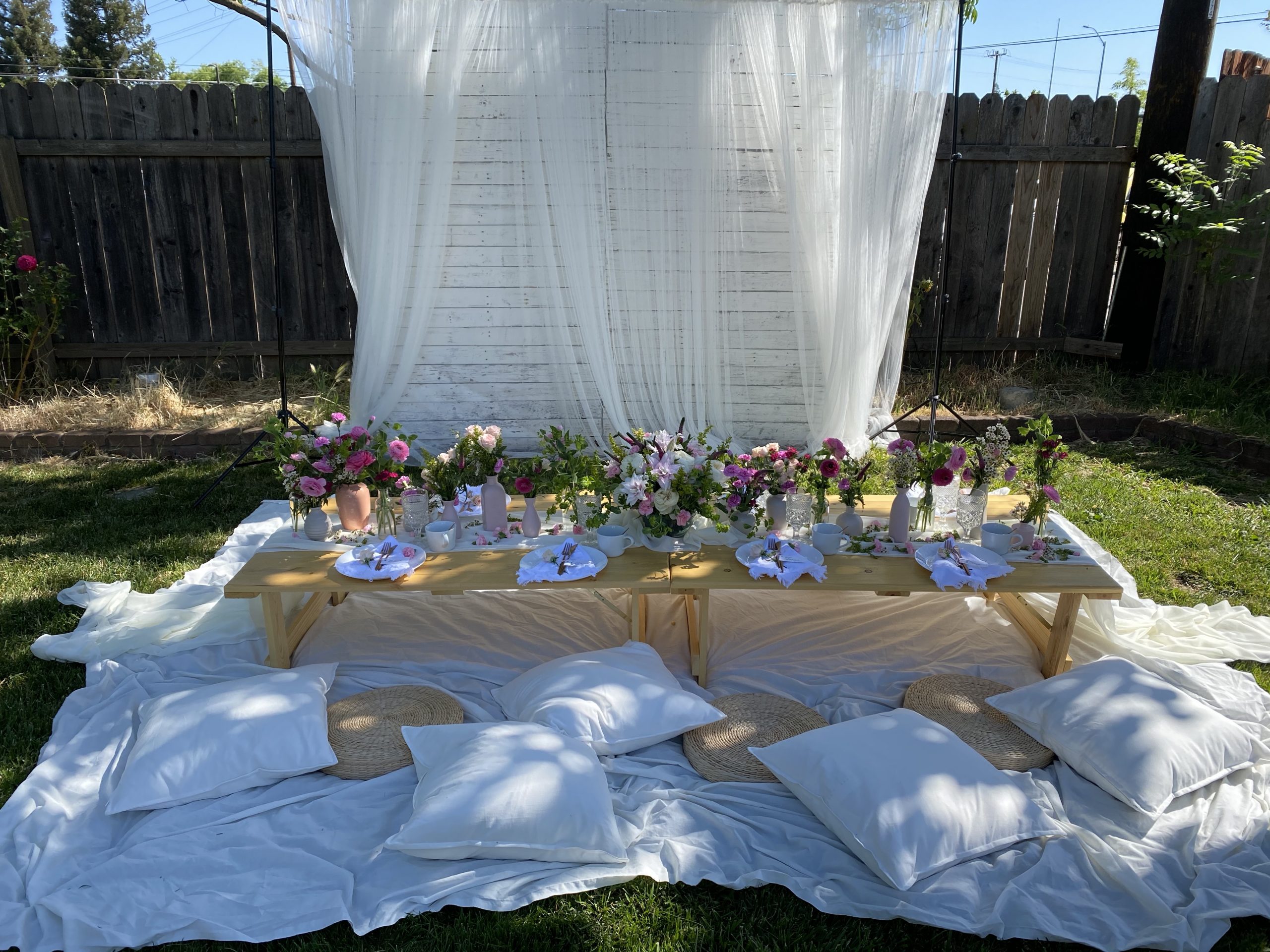 I love to celebrate people in my life. This Mother's Day, in addition to celebrating my own mother, I invited some of my "mama friends" for a very special, picnic-style brunch. There, surrounded by plush pillows and spring flowers, we were able to cherish one another and share our colorful "mom" stories
Mother's Day used to have a different meaning for me. It was just a fun day as I celebrated my mom. I would thank her for all that she has done for me, not having the slightest idea what I was thanking her for. I just knew that she has done a lot. Only after I became a mom myself did I realize how much it takes to be one. The experience made me appreciate every woman that ever gave birth and carries the proud title of a Mother.
I decided to use my own backyard as a canvas and put together a floral-themed, picnic-style mother's day brunch. Mother's day happens to be in the middle of the spring and spring to me is all about the florals. I am new to floral arrangements so to spark my creativity I turned to one of the best idea sources that have ever existed – Pinterest. One of the pictures I absolutely loved had a bunch of small vases filled with flowers as the centerpieces. The decision was made, it's time to buy some flowers! I opted to go with all the pink tones with some greenery and white fillers. And to bring it all together, I decided to make one big floral centerpiece. Which was a bit on the brave side for me considering that I have never made one.
The table setting that started with a small idea from a Pinterest picture grew into a big vision. I started to look at event rentals, as I normally do, to put together different options. I absolutely love being able to let my creativity run free and wild once my mind conceives an idea. Because of the Event.Lyst my creativity was only limited by my budget and my free time.
I wanted to make every mama invited feel special and welcomed so to give it a little extra spark, I decided to add custom nameplates on top of a beautiful table setting.
My vision came to life as each mama arrived with the biggest smile and left with heartfelt appreciation for the time they got to spend together. It is one of the greatest feelings to be able to create something that everyone enjoys. Beautiful mamas were having wonderful conversations as they enjoyed savory bites and sweet treats. Truly, a delightful morning!
I'm ecstatic with how everything turned out and how happy each mama was to be a part of this gathering. People in your life are worth celebrating, find a moment to do that. Be genuine and creative. And if you need any help – there is always Pinterest and Eventlyst.