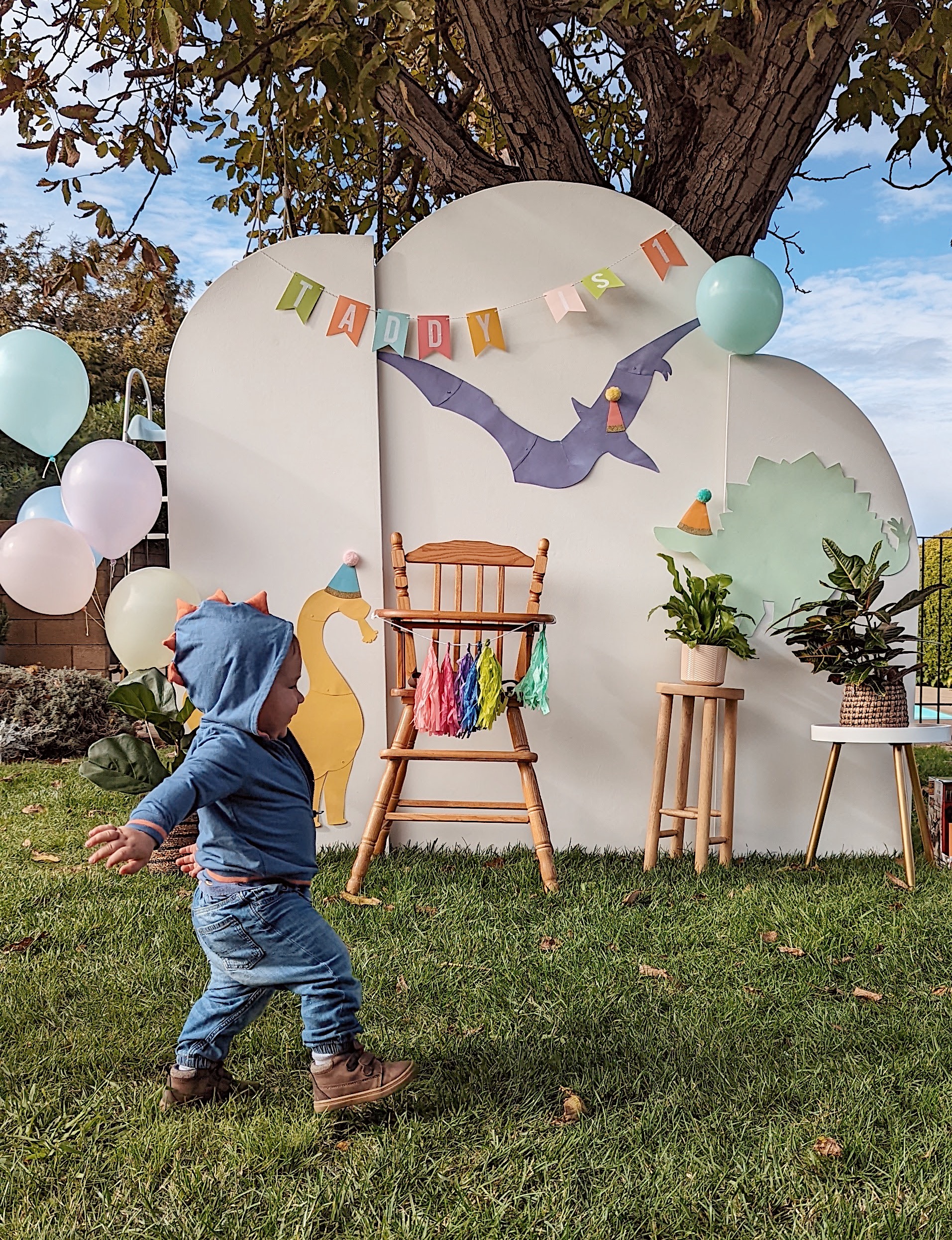 I always thought that first birthday parties were unnecessary and over the top… that was before I had my own child 🙂 Suddenly I understood the hype. Each week and month you experience a new milestone reached and it's such a joy to see! Of course you want to celebrate your little one once they turn 1 years old, however I did not want to break the bank with this celebration, so here is my take on a pastel dinosaur first birthday and on a budget!
When Tad was about 6 months old, I already began thinking about what we'll do for his first birthday. There were so many fun options but as the months went by it became clear to me that I needed to do a dinosaur theme party. Especially since we were given a huge assortment of dinosaur toys and our little guy enjoyed them so much that I couldn't resist choosing the dinosaur theme for his first birthday. (Also one of my kiddo's nicknames is Taddysaurus Rex so that definitely helped as well). 
Once I nailed down the party theme, I realized I needed to make it fit for a toddler and ferocious dinosaur decals just weren't going to cut it. I decided to go with a pastel, friendly and cutesy dinosaur theme to keep the party sweet and innocent, like my almost one year old.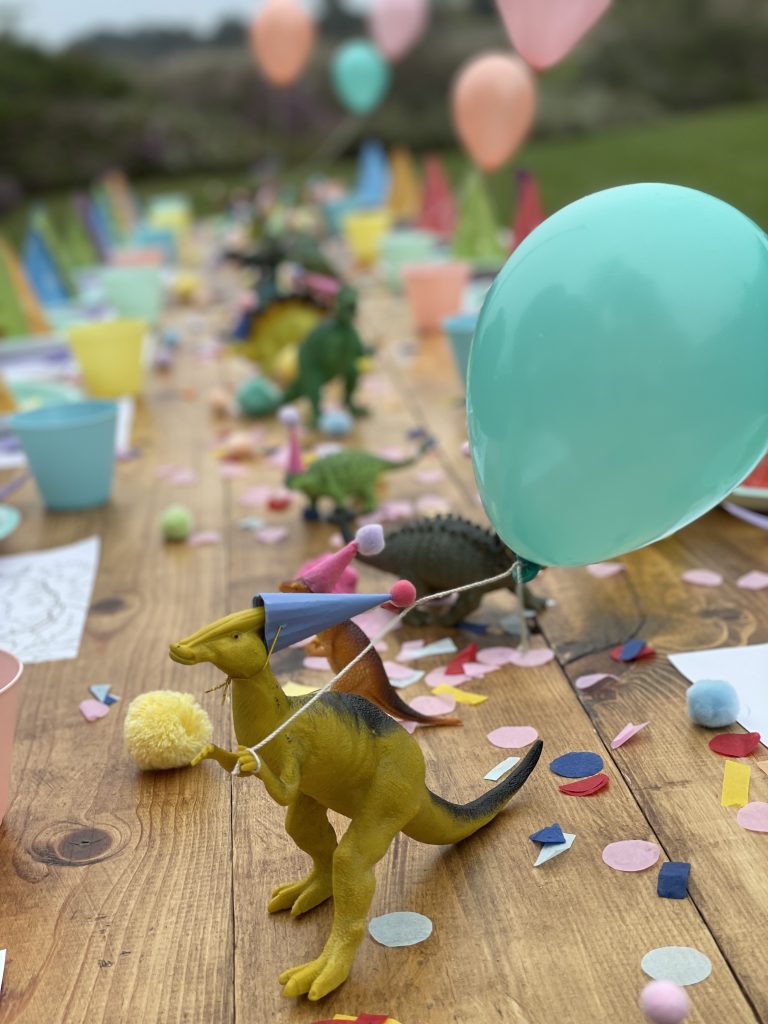 The next step in the party planning process was to book the rentals and of course I booked on Eventlyst. Because this was a kid's party, I opted for disposable dinnerware (which was definitely a money saver) therefore my only rentals were tables and a backdrop. In order to save money, I made more of an effort on the kids table instead of where the adults would sit and rented a low boho table from Eventlyst vendor Karina Shvets. This table top option was great because it was low enough for kids to sit comfortably. Additionally, I booked a set of rounded panel backdrops from Eventlyst vendor Events to Remember. I loved them because it was simple, white and acted like a blank canvas for me to work with and they paired perfectly with all the pastel decor! Lastly, I was excited to find a wooden high chair from vendor Anastasiya. It gave the color palette a little bit of warmth with the natural wood tones.
My essentials were booked and I couldn't wait to purchase all the fun decorations! I shopped at my local Party City, Dollar Tree, Walmart and of course Amazon and Etsy to curate the perfect collection of pastel dinosaur party decor. The end result was perfect! 
Let's start with the backdrop! I bought the dinosaur cutouts from Dollar Tree and spray painted them in various pastel colors to achieve the "minimalist cutesy dino look". Then, I topped them off with fun party hats from Target that I cut in half and attached to the dinos to which I added a 3D-sensory element by adding pom poms to the tops of the party hats. No party is complete without a birthday banner so I found the perfect pastel banner where I was able to use sticker letters to customize the wording. For the finishing touches, I ordered helium balloons to frame the backdrop instead of making a balloon garland. Don't get me wrong, I LOVE a good balloon garland and I hope they never go out of style but there's something about classic helium balloons that is so cute and nostalgic. They are also a cheaper balloon option and were a huge hit with the kiddos too! Little ones always love to play with helium balloons 🙂 It's not a first birthday without a highchair. It's perfect to place the smash cake on and keep the little one in place for photos. I kept the high chair decorations pretty simply and just added a cute little tassel garland across the front, of course also in pastel tones. Then to finish off the backdrop, I added some real and faux plants from around the house for a Jurassic and tropical look to the design but still keeping with the overall minimalist look I was going for. Overall the backdrop turned out visually simple and not overstimulating yet fun and amusing for the little ones and guests!
Now onto the cake! I am definitely a fan of cute smash cake but definitely not a fan of ordering an expensive custom cake only for it to be smashed and smeared all over the floor! Instead I opted for buying a cake from my local grocery store – Rayleys. Luckily for me, they usually always have a few options of cute kiddish cakes with sprinkles and that is exactly what I needed! After reviewing the options, I chose the 10 inch, white frosted cake with sprinkles that had a light blue glaze over the top. At home I customized the cake by adding a bit more sprinkles, well actually a lot more sprinkles. Then I added the number one candle, mini dinosaur figures and topped off with a tiny helium balloon. I was absolutely in love with how the cake turned out and it was not pricey! (Still had money leftover for a quick Starbucks run).
Onto perhaps maybe the most fun part of the party design, the kids table! In addition to the pastel disposable cups, napkins, plates and flatware, I purchased a few more fun sensory and colorful items to add to the overall table design. The most impactful was the dinosaur figures which were gifted a while back and didn't cost me a cent! To make the normally ferocious dinosaurs look more cute and kid friendly, I topped them off with the most adorable tiny party hats from an Etsy shop! I couldn't resist buying some but also made a few myself. Of course my DIY party hats weren't as nice looking but still looked cute and saved me some cash. My FAVORITE detail has got to be the tiny helium balloons that we tied to a few of the dinosaurs and it made it look like they were holding the balloons. These party animals behaved so well they didn't even bite anyone. In addition to the dinos I spread out fluffy pom poms and colorful confetti across the middle to create a table runner like effect. End result was super fun and colorful and added a lot of dimension to the table! I also added a kids dinosaur party hat on each plate which also added dimension to the table but was also very fun for the kids to wear. Lastly, what's a kids table without some coloring options! Under each plate and cup I placed a dinosaur coloring page almost like a placemat, added crayons throughout the tables and that's it! The kids table turned out BEYOND ADORABLE! The end result was cute and actually practical for kids! They enjoyed the dinosaur figures, the pom poms and of course the coloring pages. 
Oh and this is an absolute must… a DINOSAUR PINATA! Pinatas are loved by kids of all ages, even adults! It was so great to see my little 1 year old have fun and engage with this activity as well as the big kids up to 13. Seriously, you can never go wrong with a pinata at any kids birthday party. 
So there you have it, a first birthday dinosaur party! I believe anyone can pull off a budget friendly birthday with items from your own home, a little DIY and some Amazon and Etsy purchases sprinkled in here and there 🙂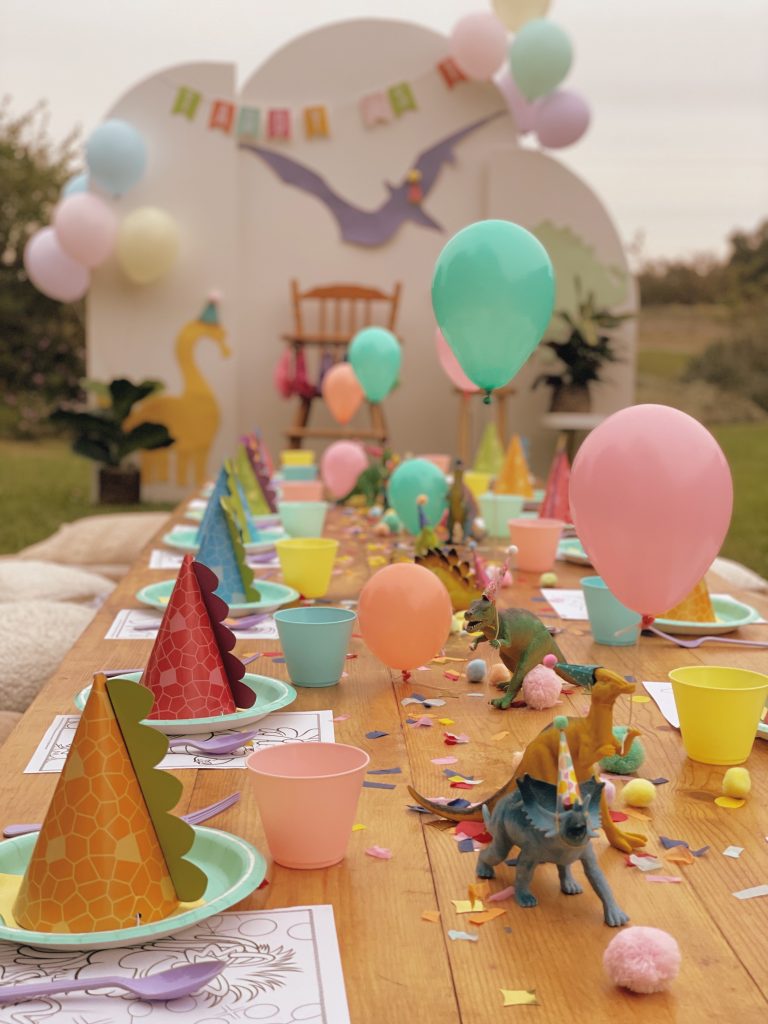 All items linked below:
Restickable mounting dots for hanging dino cut outs 
RENTALS
GOODWILL & MISC HOME FINDS
Pillows 

Rugs 

Faux plants 

Real plats