Events To Remember Party Rentals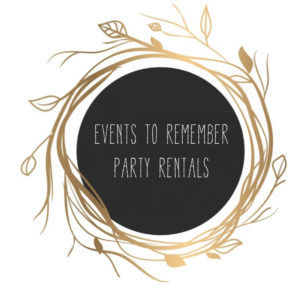 We offer beautiful decorations for any occasion at an affordable price! Let us be your one stop shop for all your party needs.
We do take a deposit upon the pick up of your order, and it will be returned to you open return. Any items that are lost, stolen, or broken will be charged for full price of replacement.
Delivery option is available for orders over $100.00 with an additional delivery surcharge.
Rental price is included for 3 days: day of pick up, day of event, and drop off day.
Order Cancellation Policy: Once the order has been placed, any cancellation 30 days OR prior to 30 days is 40% return, 10 days prior to event 20% return, and 0% return after that.
Please note that this is our personal cancellation policy and does not apply to all vendors.
We DO NOT SHIP our items nationwide for rentals. Local Sacramento area rentals only.
If you have additional questions please feel free to reach out to us at: 916-225-2310 or esav02@yahoo.com.
Visit our instagram page @events2rememberpr
We would love the opportunity to help create your next event for you!
Showing 31–45 of 84 results