Most Popular Indianapolis Party Rentals
No products were found matching your selection.
View all Party Rentals in the Indianapolis…
Linens Rentals Indianapolis
No products were found matching your selection.
View all Linen Rentals in Indianapolis…
Chair Rentals Indianapolis
No products were found matching your selection.
View all Seating Rentals in Indianapolis…
Table Rentals Indianapolis
No products were found matching your selection.
View all Table Rentals in Indianapolis…
Backdrop Rentals Indianapolis
No products were found matching your selection.
View all Backdrop Rentals in Indianapolis…
Rental Categories
Do you have items you would like to rent out?
Join Eventlyst as a Vendor and share your
inventory with party starters in your area!
Learn more here: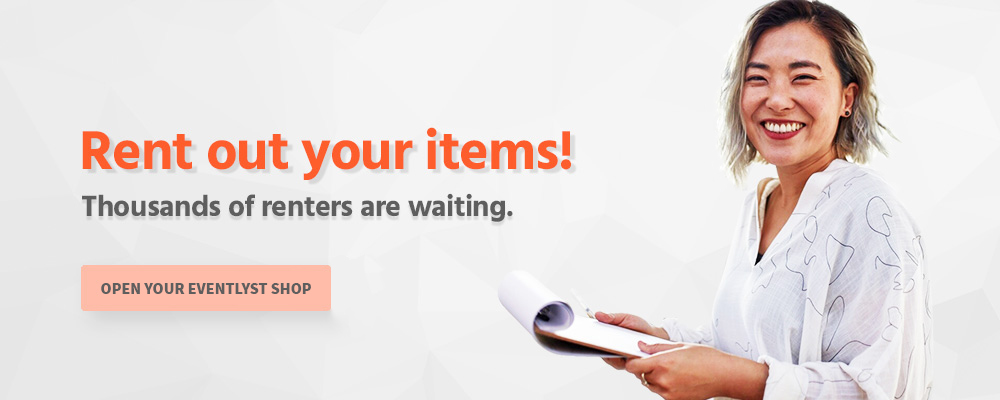 The 6 Best Wedding Venues In Indianapolis for an Event, Wedding or Party
Did you get engaged? If so, then looking for the perfect venue doesn't necessarily mean headaches or nerve-wracking experience. When you decide to have your wedding in Indy, you can confidently leave the stress to those couples still deciding where to host their wedding.
When choosing a wedding venue, you want a location that will be personal and intimate. You'll want elements of the place you pick to reflect the love you share with your partner. After all, it's every couple's dream to have a wedding that is uniquely there own. That's precisely why you should go with a wedding venue that is as compatible with the wedding theme as it is compatible with your personalities.
Indianapolis is a spectacular city to tie the knot with the love of your life! The gorgeous city of Indianapolis has plenty of incredible wedding receptions and venues. Once you browse through potential locations, you can't miss finding the perfect spot to say "I Do"!
Here's a complete guide on some of the best wedding venues in Indiana. Keep in mind that it's crucial to find out about Indianapolis IN party rentals when choosing a place.
1. The Indianapolis Zoo
The Indianapolis Zoo is the go-to for all brides and their grooms. The venue is well-known even before it became a hot spot for couples. Therefore, if you don't plan ahead, you can expect to take longer to book the venue. The Dolphin pavilion is an excellent spot for a wedding reception.
In not so many words, the Indianapolis Zoo is a fantastic venue! If you want to leave your guest wowed and get them talking about your wedding even months after the wedding day, then the Indianapolis Zoo is the best wedding location for you. The venue utilizes green practices, and the underwater dome plus the swimming dolphin make a complete package. So get wild at the zoo and leave everyone, including yourself roaring with excitement.
2. The Cardinal Room At Golf Club Of Indiana
The Cardinal Room, which is found at the Golf Club of Indiana, is more than your typical wedding venue. The location offers an exciting experience. Also, the serene private atmosphere is perfect for a sophisticated wedding. You cannot miss liking the 175 wooded acres located near Zionsville.
Whether you want a small or big indoor or outdoor wedding, the 11,500 square foot Cardinal Room is more than enough. Every day, newlyweds complain of pretentious and small venues, but the Cardinal Room is unlike any other place. A single glance at what they have to offer and you'll be saying 'Yes' to everything they have to offer.
3. Indianapolis Museum Of Art
If you want a wedding with an artistry vibe, then the Indianapolis Museum of Art is an excellent option. The exhibitions are full of quirky and imaginative art and are always a great addition to any wedding. The Indianapolis Museum of Art is the venue for couples who want to make their wedding a beautiful masterpiece. The location also houses intimate gardens, impressive galleries and dramatic vistas.
4. The Sanctuary On Penn
In a city known for the best wedding venues and party locations, you might want to consider The Sanctuary on Penn as your wedding venue. You'll be impressed with the more than a century-old site which can help you customize your wedding to create something unique to you and your better half.
The venue which was built in 1875 is located south of the century Library. The Sanctuary's history is breathtaking, so be prepared to be amazed. The stained glass windows and the old wood floor are perfect for a rustic themed wedding. Be it a reception or wedding party; the Sanctuary is ready to create something amazing for you!
5. Cyrus Place
If you're looking for a one-stop wedding venue, then Cyrus Place is the venue you want. The site is nothing short of a spectacular space suitable for all types of events and parties, including your wedding. Everything from the cost to the historic ambiance to the beautiful decor will leave you awestruck.
Let all you love fantasies come true at Cyrus Place! You have access to the main and grand hall to make your dream wedding. Beyond versatility, Cyrus Place also offers a sleek and classic vibe for your event. If you're worried about having limited options with the venue, you can choose The Cyrus Place where flexibility is not a problem.
6. The Montage
The Montage understands a great wedding, and party venue in Indianapolis needs to stand out – and the Montage does precisely that. This contemporary venue on Indianapolis' North side is unlike any other location. Aside from the alluring atmosphere, the lake views, as well as the serene ambiance, will make planning your dream wedding easy. The water views, combined with the lighting, makes you want to host all your events at the Montage. Picture having your wedding surrounded by breathtaking entrances and patios; nothing can go wrong at the Montage!
Regardless of the location you pick for your wedding in Indianapolis, pick a place that will help you create a unique and glamorous wedding. However, your special day cannot be complete without picking reputable Indianapolis IN party rentals.
While some of the venues will offer in-house rentals, consider your options to make your wedding an event you will cherish forever. Moreover, due to the 'hit or miss' nature of booking wedding and party venues in Indianapolis in-house tent, chair, table, arch and other Indianapolis IN party rentals could end up costing you more. Indianapolis is filled with party and wedding rentals, which make weddings more than memorable.
Now you know some of the venues to start looking into for your wedding, be sure to do your due diligence regarding Indianapolis IN party rentals. Know which questions to ask as well as the things to consider when choosing wedding and party rentals. If you are privileged to work with experienced professional renters, then you can make your dream event a reality.
By renting through Eventlyst.com you're supporting your local community!
Our vendors range from professional shops to stay at home moms and recently married couples.  New products added every week!
They live locally where you live in Carmel, Fishers, Noblesville, Greenwood and Anderson Indiana
They provide every service you need including table and chair rentals, linen, plates and dinnerware, decor, backdrops and much more!
They serve any kind of event from small parties to weddings and corporate events.
Rent through LoveofParties for your next special event!
How to contact a specific vendor?
If you're looking for a phone number to call or email for a particular vendor you can usually find it in their profile.  However, the best way to get help is to use the Contact Page to message them directly!
Have more questions? See our Client FAQ here.